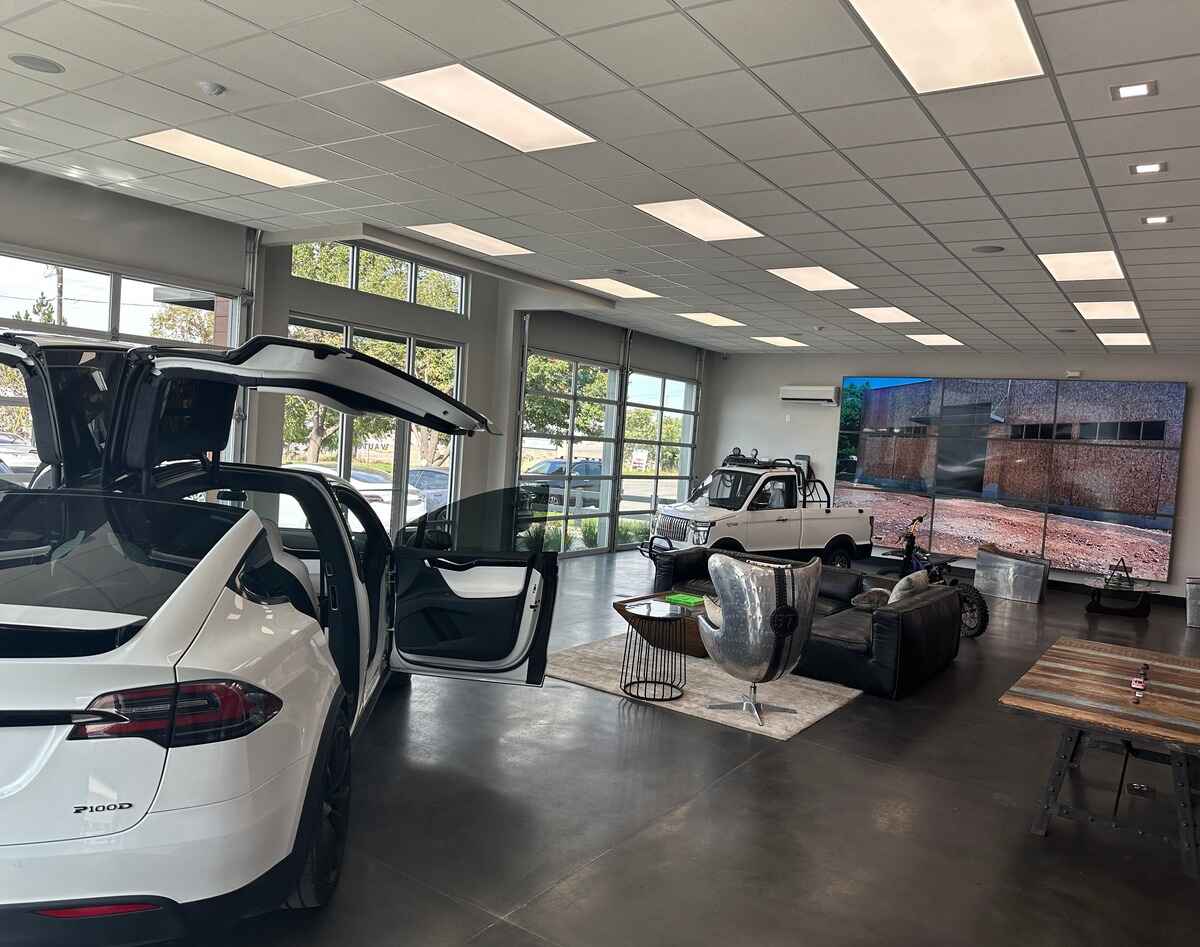 EV Auto Announces Grand Opening
EV Auto is Utah's largest and only dedicated used electric vehicle and hybrid dealership that offers sales and service of EVs. Although the company has been selling EVs for four years, this week it is celebrating the grand opening of its national concept of used-EV dealerships in a full-service dealership context, complete with sales, service departments, edgy, EV-inspired art-filled showrooms, and a chill, easy-going sales culture. The new Bountiful dealership is its initial Utah location. It plans to open two more dealerships, one in Utah, and another out of state. Ultimately, the company wants to have a nationwide network of used EV dealerships.
EV Auto carries all brands of premium, low-mile, clean-title electric vehicles including Tesla, Rivian, Lucid, Ford, Audi, Hyundai, Kia, Fisker, Porsche, and Chevrolet. Unlike other car dealers that may have a few EVs on their lots (mostly obtained from trade-ins), EV Auto is the first and only dedicated EV dealer that sells premium EVs from multiple brands, says the company.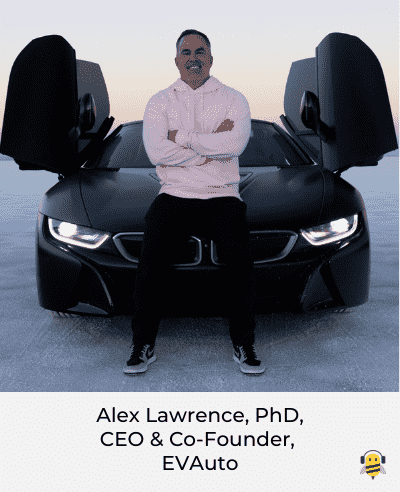 TechBuzz sat down with CEO and Co-Founder, Alex Lawrence, PhD, to learn more about his company, its rapid growth, and plans for the future.
Lawrence, a professor at Weber State University and serial entrepreneur, founded the company in late 2019 with co-founder, Logan Woolley. Tyler Jones recently joined the team as General Manager and operational partner. Lawrence and Woolley started the business with one car in Lawrence's driveway. The company has since grown steadily. This year it purchased an empty lot in Bountiful and transformed it into a state-of-the art, stylish EV dealership with a friendly, low-pressure approach to selling used cars ranging between $15K to over $100K.
"We say 'hey, what's up' when people come in. But if you're out in our lot, we're not going to go out there and bug you." said Alex Lawrence, CEO and Co-Founder of EV Auto. "Some people just want to walk around and look. We just don't want people to feel like we're pressuring them in the slightest. A lot of people just want to learn about EVs."
Plug-in EV sales nationally have been rising sharply since 2018 when 330K EVs were sold in the US. After a slight downturn over the next two years, EV sales rebounded in 2021 with a doubling of sales from the previous year (607K), and strong sales again in 2022 (918K). A lot of those cars are ending up in the used market. EV Auto's goal is to be America's largest seller of those used EVs.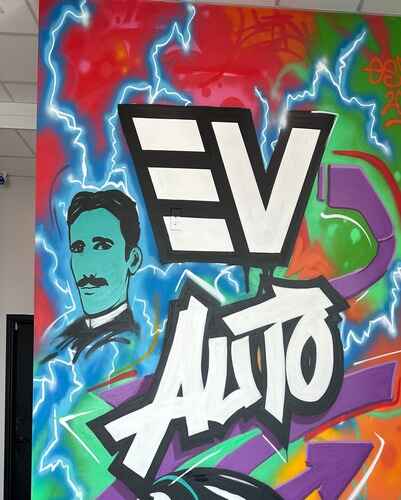 EV Auto has a wide selection of used EVs from many different makes which makes it easy for the EV shopper to test-drive multiple different EVs from one location. "If you are shopping for a used EV, typically, you would have to look on KSL and they're going to be at three or four different dealerships," said Lawrence. "That means three or four different salespeople, and usually three or four miserable experiences because there's a really good chance the salespeople won't even know much about them." Lawrence said most of these dealer sales people don't have the incentive to learn about EVs because they are relatively rare still. Car lots typically have few of them (often because they got them on trade). Further, electric cars are so different from other brands, sales reps tend to not do the work to learn the details about them.
Lawrence continued, "At EV Auto customers can test drive all sorts of different EVs: different colors, different trim levels, different model years. And even though we can only fit fifty cars at this location (Bountiful), we can find more. We are the guys that can find the EV that people are looking for."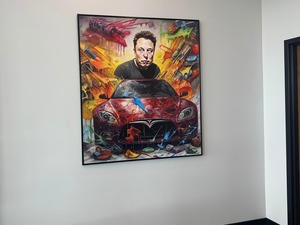 Lawrence points out his company is proud of its chill company culture eschewing stereotypical high pressure sales techniques involving sales reps "pretending to go back to their managers for approvals," said Lawrence.
"Tyler Jones, our General Manager, took a huge risk to join us," Lawrence points out. "He left a very successful position at a well respected dealership, took a large pay cut for equity, has a young family—a great story of entrepreneurial risk. So when customers come in and talk with him—or me—they're talking to an owner. There's no, 'let me go talk to my manager', good cop/bad cop routine. That's a sales strategy that has been obviously very profitable for dealers historically, but we don't need to do it. Our prices are fair and competitive; oftentimes they're at the bottom. We treat our customers very well. We have 55 unsolicited five-star Google reviews with detailed descriptions of their positive experiences. That's how EV Auto is different than typical used car shopping," said Lawrence, with pride.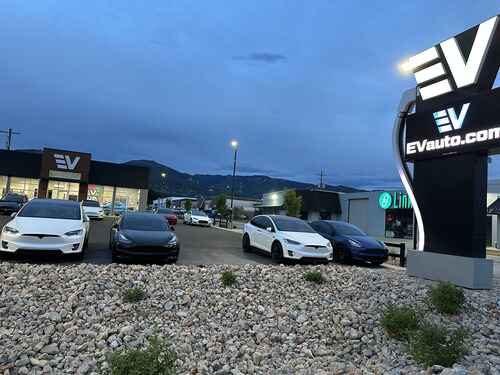 Regarding concerns about the lifespans of used EV batteries, Lawrence points to a Tesla survey demonstrating "problems with battery performance after ten years across a very large group of different cars are in the low single digit percentages that had any kind of serious battery issue." He continued, "Personally, I've never had a customer communicate with me that they've had a serious battery problem. And we've sold hundreds of EVs, including all the way back to 2014 model year Teslas. I've never come across a serious battery problem." Lawrence recommends considering a warranty on older, high mile EV's that are approached their 100K+ mile warranty on batteries.
This week Silicon Slopes North Chapter is hosting a lunch event at EV Auto. It takes place on Thursday, September 14th, from 11:30am to 12:30pm. There will be multiple EVs present: a Hummer, Rivians, customized BMWs, a Ford Lightning, "a bunch of Tesla Plaids (a 1000+ horsepower vehicle capable of 200mph), "the fastest car ever made," according to Lawrence. "It's really just a chance to network with other entrepreneurs, drive some cars, and hopefully have some fun."
Click here to RSVP to the September 14th lunch event.
EV Auto is located at 612 W. 800 S. in Bountiful, Utah.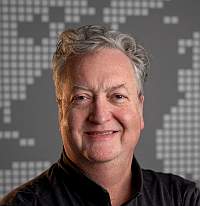 About the Author