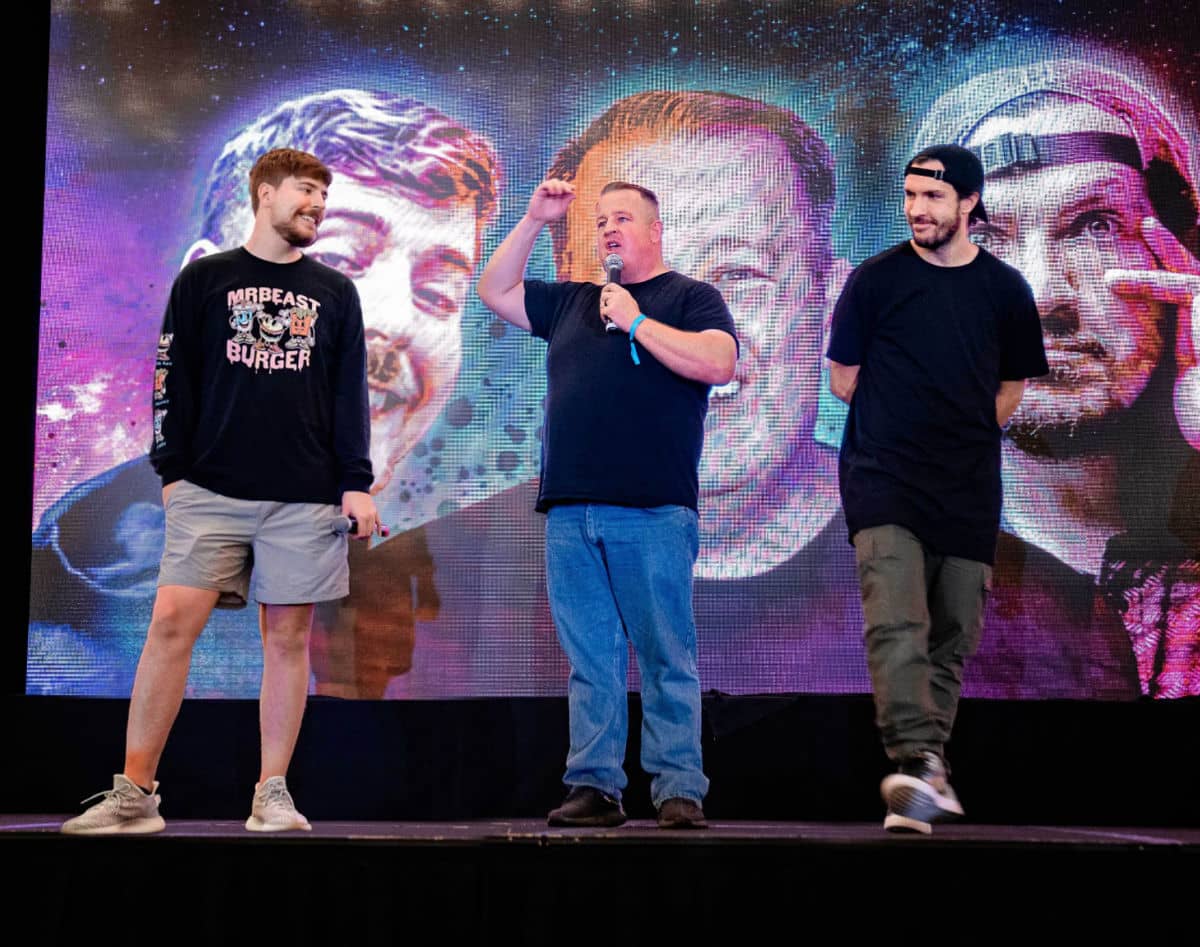 Derral Eves Uses YouTube and The Chosen to Uplift the World
By Elainna Ciaramella

Derral Eves has been on YouTube since it started in 2005. Since then he has learned pretty much everything there is to know about YouTube. He created Channel JumpStart, a 12-week mentoring program where he teaches the ins and outs of growing a YouTube channel. He founded the VidSummit conference. He wrote a Wall Street Journal Bestseller, The YouTube Formula. He executive-produced and is the CEO of the wildly successful, crowd-funded TV show, The Chosen, now in its third season. His desire to become a creator started when he was six years old, the day his uncles took him to see Star Wars: The Empire Strikes Back in 1980.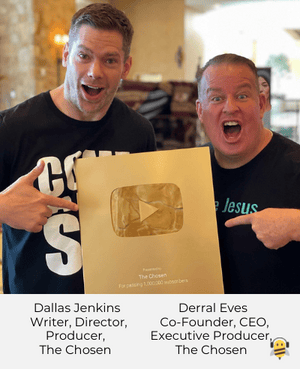 "The Empire Strikes Back was epic, and that moment was surreal. The big screen, and being with my uncles was really cool plus the whole storyline...it just clicked for me when I was six, and I knew I wanted to do something in movies and television,'" says Eves.
In 1984, Wendy's ran its "Where's the Beef?" ad campaign, and a young Eves ate it up. He saved his money from a paper route and bought a videocassette recorder (VCR) and some blank tapes—this was 20 years before YouTube—because he wanted to record the ad and show his friends. "We could enjoy the ad together, which was really cool," says Eves. Around the same time, Dunkin Donuts came out with its hilarious ad campaign with "Fred the Baker," furthering Eves' affinity for TV ads.
In 1984, Apple's Super Bowl ad, directed by Ridley Scott, aired on national television only once during the third quarter of the 1984 Super Bowl football game. "The ad was groundbreaking and I was blown away," says Eves. "I got obsessed with Super Bowl ads. That's when I knew what I wanted to do, what I wanted to create."
During Eves' childhood, he would often carry a notebook and make notes when people liked specific ads. He would do his own market research on Super Bowl commercials and he noticed that certain people liked Budweiser ads, while others liked different ads.
In high school, Eves was crazy about Saturday Night Live (SNL) and sketch comedy—a lot of his friends were talking about it so he would record SNL. "My favorite was the ads on SNL," says Eves.
As he was graduating from Southern Utah University, Eves had exciting job offers at both ad agencies that did Super Bowl commercials—he had the opportunity to go to Los Angeles or Chicago, but his senior year was transformative because it was the first year he became a father.
"I started to reevaluate my life differently. I wanted my kids to grow up with grandma and grandpa. I wanted them surrounded by family and to have their best friends be cousins, so I made the hard decision to not accept those offers after college and stay local, kind of squashing my dreams of doing anything with the Super Bowl," he says.
Eves took a job for a short while, then in 1999, he started his own agency working with local businesses helping them develop websites, get traffic to their websites, and convert that traffic into money—he excelled at it. In the early 2000s, as Google and the dotcom bubble grew, Eves started to understand and excel at Google rankings.
In 2005, Eves was hyper focused on scaling his company, and he learned early on that success is about multiple streams of income and getting more than just one-off offers. One day, Eves went on Craigslist because he was, "too cheap to go buy a brand-new desk." He was expanding his company, and searching for a free or $10-dollar desk.
He saw a Craigslist ad for a brand-new website; it said that if you could get 100 people to sign up, you could get a new iPod. The year was 2005, the same year that Steve Jobs showcased the iPod Nano on stage. Eves was very impressed. He admired Steve Jobs. He checked out the new website. It was called "YouTube."
"I was blown away because at that time, video and video-sharing sites, if you hit the play button, you had to wait for the buffer all the way in, and with this one, you didn't have to wait. You hit play and it started to play. I'm literally in rural Utah, on the slowest internet of all mankind and I was hitting play and I'm like, 'Oh my gosh, this is amazing!'"

Then, Eves noticed YouTube had tools for developers, for example, YouTube gave you code so you could embed it on websites. "The first thing that went through my mind was, 'What if I made a video for all of my clients and have them embed a video on their website?'"
Eves went out and spent the rest of 2005 and all of 2006 and 2007 convincing 865 of his clients to do video. Soon, Eves was working with different video production companies all around the world, and he did a lot of videos for himself and his brother.
In 2006, Google purchased YouTube for $1.65 billion dollars, and they started phasing out Google video, using YouTube in Google search instead. Around the second quarter of 2007, all 865 of Eves' clients' videos started outranking websites that Eves had spent thousands of hours optimizing for search engines.

Engagement rose significantly for all of these clients, which Eves got a kick out of. He stepped back and contemplated all of the effort it took to rework websites versus the miniscule effort it took to put a video online, give it a great title, and get real results.

"I ended up selling that portion of the business with all the websites and I shifted my focus to video. All I wanted to do was make and rank videos and get the phone to ring, and I spent quite a bit of time over the next year honing my craft," says Eves

Eves' videos were disruptive. They'd rank on search, which was great for his clients. He was working with doctors, dentists, attorneys, pest control companies—he'd get the verbiage down perfect, then he'd scale it out nationally. He would always try to find friends or people in southern Utah where he lived that he could do all the tests on—that led to one of the bigger decisions in his life, which started with a friend who had a pest control company, named Wade Beatty with Western Pest Control.
Reliving the 'moment' Eves had at eight years old
Beatty was looking to scale his company, so Eves produced some videos for him and they started to rank in search. Beatty got so busy that he was hiring technicians to keep up with all the work, and finally he had to leave his office to go do calls himself.
Beatty went into the piano store to spray for cockroaches, and the owner of the piano store said to Beatty, "Do you know anyone that knows marketing and Youtube? and Beatty said, "Oh, you've got to use Derral."
Eves received a call from the owner and went to his store. The owner showed him the ads they made to sell their grand pianos. "I was like, 'Oh, that's really cool,' and I watched the video. That was like the moment that happened when I was eight years old, the moment when I saw Ridley Scott's Super Bowl commercial," says Eves.
The store had about 20,000 subscribers at the time getting a couple hundred-thousand views on their videos. "I asked him, 'How many pianos have you sold?' and he said, 'Zero,' and I responded with, 'Tell me what you really want to do,' and he told me he would really like to make music and videos. That was The Piano Guys and over the next 18 months, they went from tens of thousands of subscribers to 1.8 million, and over 280-million views—and I found my love and my jam."
What Eves yearned for as a kid wasn't to make Super Bowl commercials, but to make content that people would talk about. "You know, they talk about it the next day, and then into the next week and the week after," he says. "I wanted to make content like that, so I vowed to be the number one expert on YouTube, and I would be surrounded by the biggest projects in the world."
Eves went all in; he walked away from the mom and pop easy money making videos, and he was ready to make a name for himself. He wanted to make Super Bowl-quality disruptive content that people would talk about and get more views than the Super Bowl on YouTube.
Eves went on to work with local Utah-based companies like BYUtv's Studio C, which he helped develop their YouTube strategy and got them well over two-million YouTube subscribers, and a couple billion views. He worked with clients like Red Bull, Adobe, Google, Nintendo, and YouTube—he still consults for YouTube—and some of the biggest content creators on the planet. Eves also launched his YouTube channels, 32 to be exact. He has over one million subscribers each, and just crossed 87-billion video views.
Bringing light to the world
Eves' journey has been impressive, but what matters more than anything to him is serving others. "I want to help facilitate more light in the world. I think we live in a very dark time, so 10 years ago, I started a conference called VidSummit where we shared case studies that would help develop and inspire this new creator economy," says Eves.
In 2015, Eves executive-produced the Squatty Potty pooping unicorn ad, working with Jeffrey Harmon with Harmon Brothers.com (co-founder of Angel Studios, HarmonBrothers.com, VidAngel, and Dry Bar Comedy). The following year, Harmon and Eves gave one of the keynotes at VidSummit on the case study for Squatty Potty.
The next year, Harmon planned to go to the VidSummit but couldn't at first, because he was so busy with VidAngel. But at the last minute he decided he needed to to show Eves some new content. Harmon flew from Provo, Utah, to Los Angeles just to show Eves a video.
At first Eves told Harmon he was too busy to watch a video, he was orchestrating a conference in LA with thousands of people and told Harmon, "I don't have time to watch a video, man. I can do it afterwards." Harmon said to Eves, "No, you need to watch it." Eves walked away and then realized, "You know what? Jeffrey just flew all the way from Provo just to show me a video, the least I could do is watch it." So, they found a little room and watched the video. It was a short film titled, The Shepherd, from a creator who had made it for a Christmas Eve service.
"I'm a nerd when it comes to content and this was really good content. It was an interesting angle and the creator was a beautiful storyteller," says Eves, who realized that the film's creator had pulled him into the story, despite its low budget. For Eves it was an impactful experience.
"I was all in because I saw the opportunity when he said the creator was going to do a TV show," says Eves. The next week, Dallas Jenkins flew into Provo, Utah, and Eves met with him. The two hit it off from the start and they immediately discussed concepts for the show.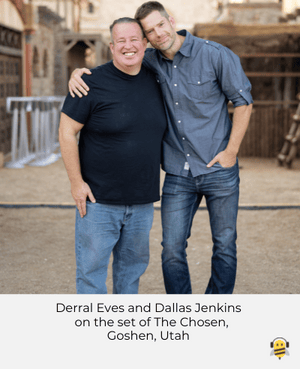 "Dallas started explaining things that were always in my heart of how I thought Jesus would be, and how content should be that's related to Jesus. Right then and there, we formed The Chosen."
Eves called his wife and said, "We're going to spend a lot of money starting a new business. It's a TV show about Jesus. She replied, "That's nice. Let's do it." Eves told her the licensing amount to buy The Shepherd from the church for which Jenkins made it initially. They brought on other partners to help them fundraise. They needed funding to start writing The Chosen. In 2017, Jenkins and Eves started crowd-funding The Chosen with VidAngel as the platform.
They came in with content strategy, utilizing Eves' knowledge of audience development. They decided to go with the influencer model. "That's what I've been doing on YouTube; influencers make these channels. So we made Dallas the influencer. He has been the spokesperson to raise the funding. He shares from his heart the vision, mission, and purpose of the short film that had a big impact on me," says Eves. "We launched The Chosen, and got people interested in doing the funding. Then, we got approval from the Securities Exchange Commission to take public money."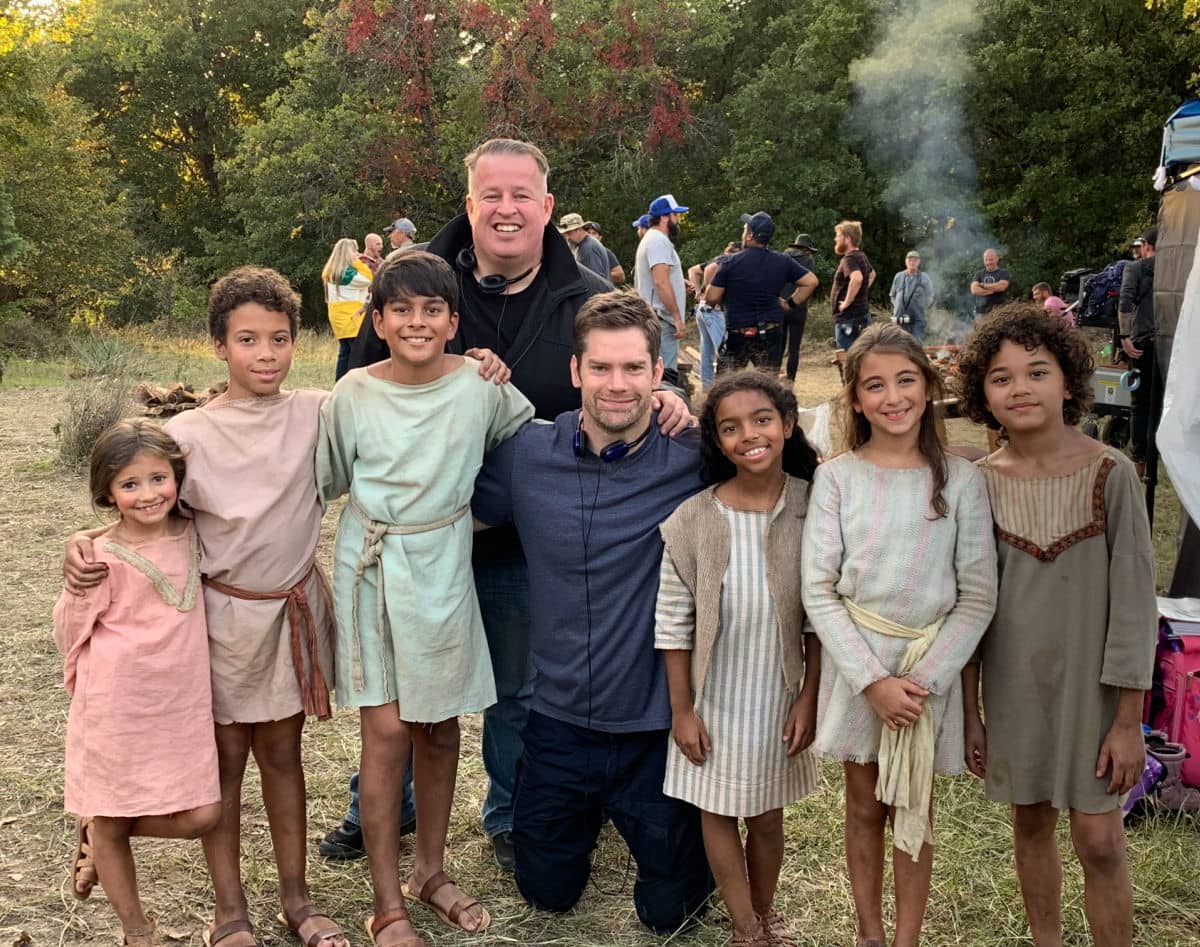 That following Christmas, Eves and Jenkins obtained SEC permission to raise funds from the crowd. They launched their pitch around Father's Day. From Father's Day to January they broke the all-time crowdfunding record in film and television. They attracted 16,000 interested individuals to finance the production of The Chosen through tiny investments that have amounted to over $40 million.
Last year a special Christmas program in movie theaters, Christmas with the Chosen, took in over $13.7 million at the box office.
Last weekend, the first two episodes of Season Three of The Chosen played in 2,027 movie theaters, grossing $8.75 million, and coming in third after Black Panther: Wakanda Forever ($66.5 million, down 67% from first weekend, in 4,396 theaters) and The Menu ($9 million in 3,211 theaters).
"I believe (that is) my job in my personal life. I believe that is your job as well, to get to know the authentic Jesus and the real Jesus as much as humanly possible," says Jenkins to CBS News. "When it comes to the content of the show, it's not my job in the show or outside of the show to try to give you all of the different versions of Jesus, or the wrong things that people say about Him. It's my job, both as a believer and as the creator of a show that is being seen by so many, to try to get that right, to try to portray Jesus accurately. Particularly also in our Bible studies and our devotional books, and our kids' books. We have tons of material that we're putting out; it's very important to get that right."
A YouTube mentorship that matters
Back to YouTube: Eves shared a touching story about a time he was in Texas, and he was trying to get some things going for The Chosen. He got a DM on Twitter from a YouTuber he knew of, who had about 4 million subscribers and was doing very disruptive videos. They ended up chatting for about 30 minutes. "Look, I want to jump on a plane. I'll be there in six hours," says the YouTuber.
Sure enough, the kid left North Carolina and flew to Dallas, Texas, and he was there in six hours. They spent a day together and when Eves was chatting with him, he was at a very pivotal time in his channel. There were some YouTubers coming from Vine who weren't really lifting up the world; they were just doing pranks and disgusting things, and their ideal audience was kids in school. And Eves said, "Man, I have kids in school and I don't want them watching this trash."
You see, if Eves can inspire someone who could put out great content, that's what he's going to do—that's why he started VidSummit. "So, this kid comes and I say to him, 'Well, tell me what your goal is,' and he goes, 'I want to be the biggest YouTuber of all time.'"
Eves started to laugh a little, but now he's serious. Eves says to the kid, "What type of car do you drive? And this is what got Eves. The kid goes, "I know where you're going with that. Most YouTubers will have a Lambo or an i8 or whatever, and I had an i8 for just three months, but realistically, it would stop me from being the biggest YouTuber of all time. I'd rather reinvest that money... that's a lot of money that can go towards video production."
Eves thought, "Holy cow, this kid is 19, and he is really smart for a 19 year old." They had an in-depth conversation, went into the data and Eves felt like he needed to mentor this kid, and so he spent a lot of time over the course of the next few years, and at different times trying to get his strategy down.
They discovered that when he would do certain things like give money away to random people in need, he was getting 4X-5X the amount of subscribers. "He always wanted to give it away anyway, he doesn't care about money, but he cares about amazing videos. He's really soft hearted even though he doesn't act that way," says Eves.
Just a couple of months ago, he became the biggest YouTuber of all time. There's no one even remotely close and he's about ready to get a billion video views this month, explained Eves. "His name is MrBeast [Jimmy Donaldson] and he wrote the foreword to my book, but here's what's beautiful about it, and this is what I love more than anything else—it has everything to do with The Chosen too. MrBeast is doing great content that uplifts the world."
According to Eves, MrBeast is one of the smartest guys he's ever worked with, and all these YouTubers are now thinking, "You don't have to do horrible or bad things to get views. Look at MrBeast, he's getting hundreds of millions of views per video, and he's the new gold standard."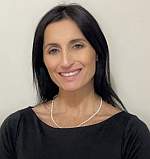 Elainna Ciaramella is a business journalist and writer who lives in St. George. Elainna interviews business owners, researchers, university leaders, and c-suite executives from all over the country. Her curiosity is endless and she is constantly seeking information that will intrigue and inspire readers.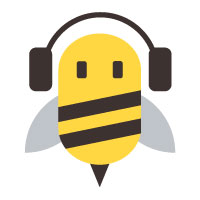 About the Author