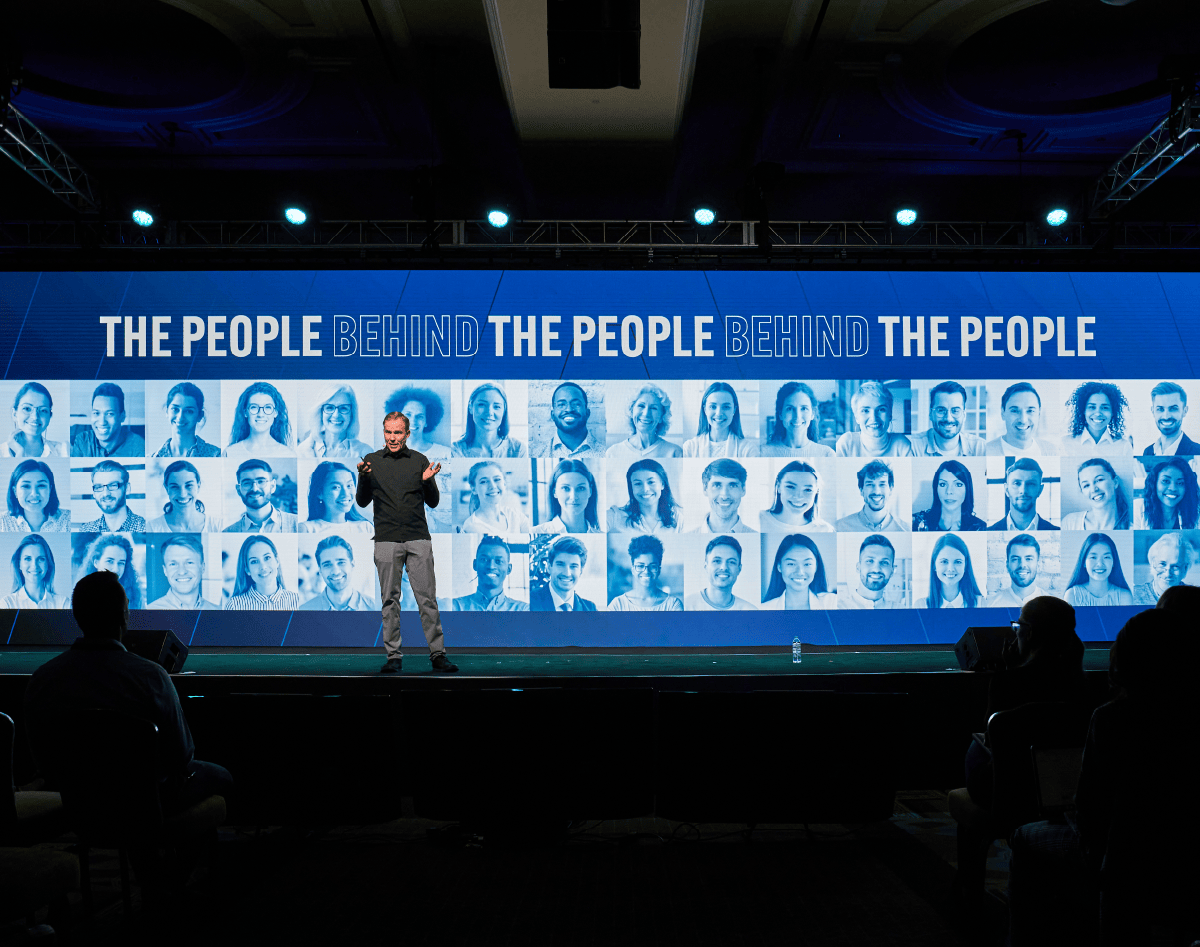 The People Behind the People Behind the People–What the Utah Tech Sector Can Take Away from the Pattern Acceleration Summit
I'm a fairly new observer of the Utah tech scene. In my measly one year I have seen great and not-so-great things happening in what has been dubbed "Silicon Slopes." But despite my young years, I felt compelled to share and relate themes I found while attending the Acceleration Summit held by Pattern, themes I felt could easily be applied to Utah tech startups and entrepreneurs.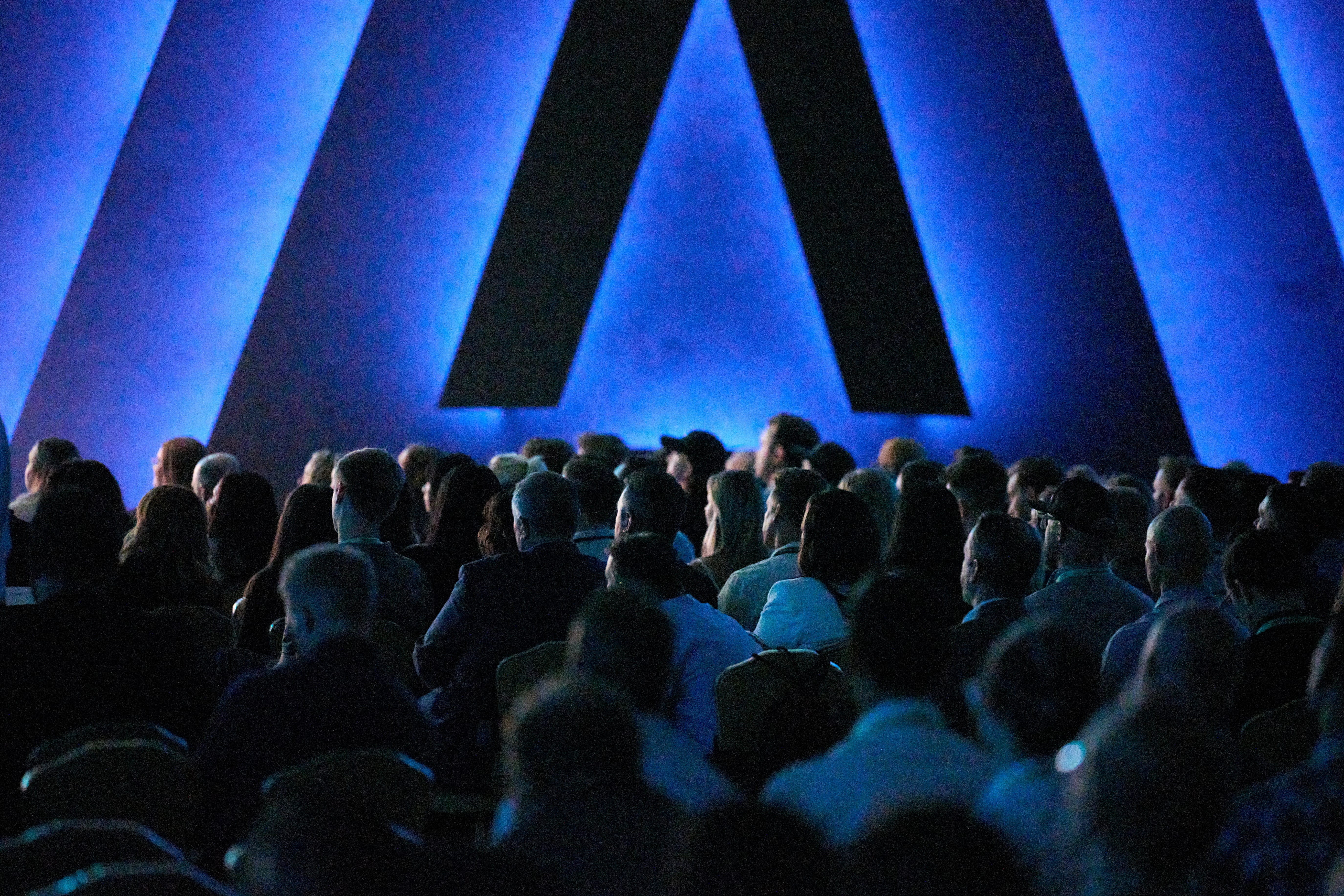 On June 15th - 16th, people came from around the US to "gather to learn, network, and experience what's possible" at Pattern's 2022 Accelerate Summit. The Summit was sold out weeks before, and had more than 900 attendees. Sponsors included Walmart, eHub, VORYS eCONTROL, NP Digital, Postclick, BUKU, SmartShyp, and Getida.
David Wright, CEO and Co-Founder of Pattern (pictured in header), gave the opening remarks and introduced the theme. He started by pointing out the top CEOs of the big companies, Walmart, Tesla, Amazon etc. We all know who they are. Then he showed us "the people behind the people." These were C-suite executives from the same big companies, but most in the audience didn't recognize anyone. Wright explained that this could go on and on, "There's people behind the people behind the people," he said. "And anytime you create a miracle or something amazing in history, this is what it takes."
"No one company can pull this off, which is why we were talking about 'accelerate,'" said Wright. "This is an impossible task to do by ourselves. I believe it is impossible for a brand to do by themselves or any agency or any platform in any geography. We thought during this conference we could link arms and just learn from each other."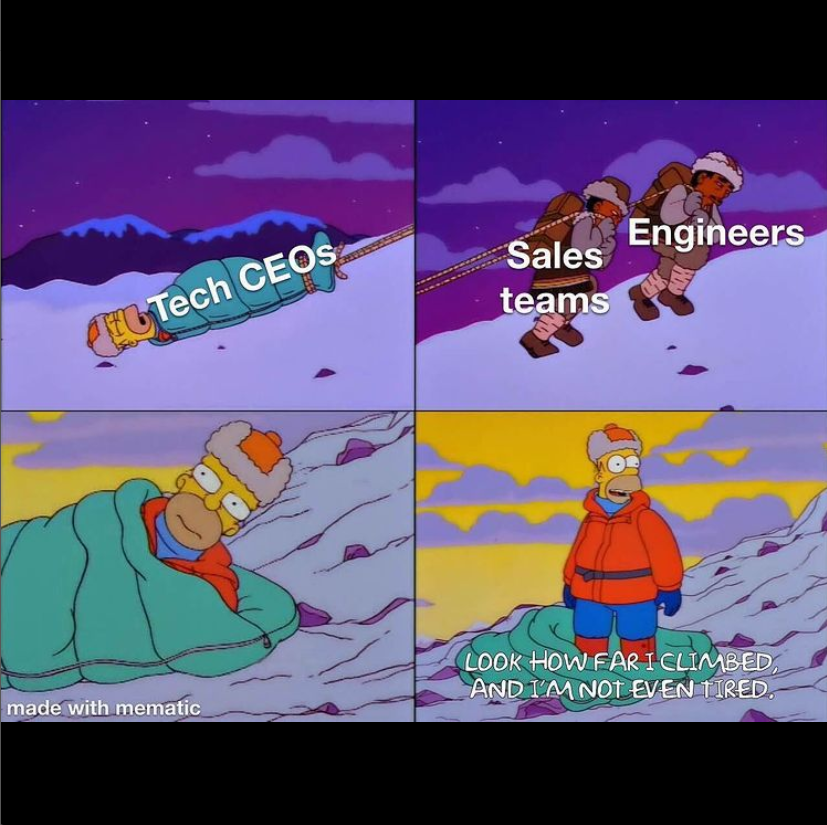 After listening to Wright's opening remarks I couldn't help thinking of the latest post from the Utah Instagram page, hold-my-fry-sauce, a page dedicated to satirizing the Utah tech and entrepreneurship scene. The meme (right) was captioned "Work smarter, not harder #LFG"
What a coincidence, or is it? Do Utah tech leaders have a hard time recognizing, acknowledging, and giving credit to the little guys and the people who came before them? I'm too new in the sector to place blame, but not too naive to realize that there's a connection here, and not too new to remember what happened when Weave went public.
Wright finished his remarks by telling a story about fishing. When his kids were younger he took them out to the lake to learn how to fish. All around them, other fishermen lined up on the banks and started to catch fish, but Wright's family's fishing poles remained untouched. Instead of stubbornly waiting for fish to come, his family went to the people who were catching fish and asked for tips. For over a decade, the family asked others for advice and eventually, Wright and his family were the ones catching fish.
"Sometimes we tend to be competitive. We think, 'if I tell this company what I'm doing then there's going to be less fish for me.' But there are tons of fish in the sea. I think that if we can approach the conference in general with a mindset that there are people here and they're catching the fish and if you're not catching the fish, ask them. And if you are on the other end of that, be willing to share."
His challenge to attendees was to ignore competition for the next two days and just link together to learn more. This challenge reminded me of an example of a company right here in Utah that lives by this. Divvy and its hype billboards understand that assignment. Companies like Divvy show us what Silicon Slopes could and should be like.
In our article, "Derek Miller on How to Avoid Silicon Valley's Pitfalls," Miller reminds us, "the good news for Utah is that we have a long history of community building and collaboration. It's not like we have to try and go do something that we haven't been doing for a long time. We just need to figure out how to keep doing this—that is the challenge."
So how do we continue growing our community and building our culture? Accelerate Summit speakers and motivators gave us a few tips: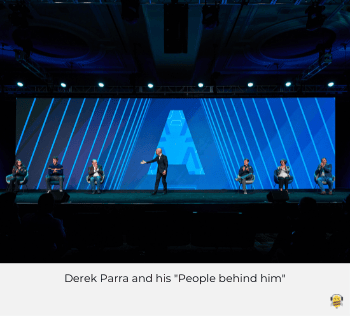 2002 Salt Lake City Speed Skater Olympic Gold Medalist, Derek Parra, spoke of his journey to become an Olympic athlete and his feelings while on the podium.
"I got my medal and I remember thinking, 'This is incredible'," said Parra. "The National Anthem starts to play for something that I did, but I knew right then, it wasn't about me. Someone in the front of the crowd started to sing the National Anthem. It rose and grew and I saw in my peripheral vision, all the mouths moving in unison. I could see everyone singing and I could feel the volume of their voices on my chest. It was an incredible moment. I blinked my eyes for just a second and I saw all the people that were on my team that were behind me from the time I first put on my first pair of roller skates back when I was 14, to that day where I laced up my skates before I went out and won that race. No one does it alone. And I was living proof at that point. I was standing on the shoulders of so many on top of that podium, and it was an incredible feeling."
Parra went on to introduce two teenage skaters who had traveled and competed in speed skating competitively all around the world. "I'm very proud and honored to be an accelerator on their path," he said. "My final thoughts I want to leave you with is, our words and our actions are impactful to each other. Each one of you here sitting in this room inspires somebody, whether it's your co-worker, your wife, your spouse, your husband, your children, your buddies you play golf with, or the girls you go out with at night. Whatever it may be, you have to realize that your words have an impact on the people around you and they can either be positive or negative."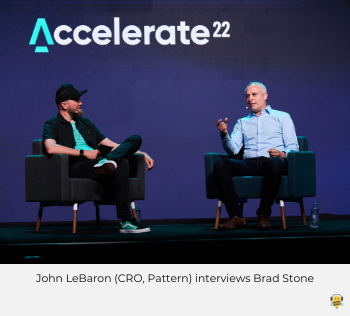 Brad Stone, Author of both The Everything Store and Amazon Unbound and current Senior Executive Editor for Bloomberg News, spoke of his experience learning and writing about Amazon. After interviewing many people on all levels of Amazon, he told us his main critique on the $1040.9B company, a critique that applies to all tech companies.
"I think the critique that emerges from the book, Amazon Unbound, which applies to other tech companies, is of an enterprise that in a lot of different ways, grew very quickly and deliberately, without enough care for the consequences of the unintended impact," said Stone. He notes the internationalization of Amazon in 2012-2013 and the quickly created transportation network Amazon implemented in just a few months to keep up with growth, a network that, "lead to a lot of chaos, accidents, and even some deaths on the road," said Stone.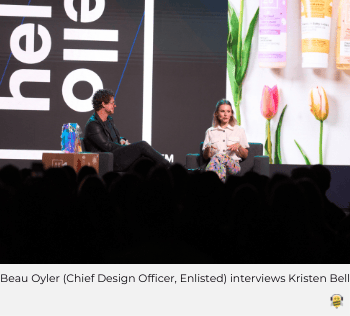 Keynote Speaker, actress, philanthropist, producer, and business woman, Kristen Bell, spoke to the audience about her company, Hello Bello, her roles as an actress, and life as a mom.
While talking about her opportunities to act and co-found a company she spoke like the entrepreneur in us all when she said, "I truly tripped over it. I am not smart enough to be doing stuff like this, I really am not. But, I believe every problem has a solution and when I see a problem I'm more of a human doing than a human being, so I have trouble not throwing out ideas. And, I can always pick up the phone and call someone way smarter than me and say, 'How can we do something like this?' It's just a very, very lucky position to be in."
When asked who the people are behind Kristen Bell, she discussed Rob Thomas, who discovered her for the Veronica Mars role. "I am too scattered to have been able to do any of this by myself," she said. Bell went on to mention Chris Buck, one of the co-directors of Frozen and Jennifer Lee, now Chief creative officer of Walt Disney Animation Studios.
Bell adds that her opportunities were more than just connections with people she knew, "Being open to things is really, really important for me," said Bell. "Granted, I'm always trying to understand the idea that saying yes can sometimes fatigue you and saying no means you're saving yourself. Time is very expensive. (These are just little things that I'm going to get tattooed on my lower back.) But, being open is really important and that's how I've fallen into a lot of these roles."
When speaking of her business, Bell assured us she was a very hands-on founder. "I'm not a good enough actor to speak about something that I don't believe in, truly. I can't tell you why it's good if I don't believe in it. That has always been something that is really important to me."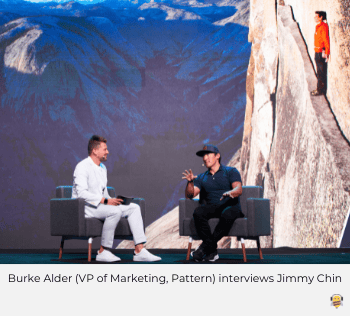 The last keynote speaker was Jimmy Chin, an Academy Award winning filmmaker, National Geographic photographer, New York Times Best Selling author, and mountain sports athlete.
Chin started off by telling us about his groundbreaking climb of the "Shark's Fin" route on Meru Peak in the Indian Himalayas, stressing the importance of preparation. "So much of climbing is about preparation," says Chin. "When we go out to a mountain like Meru you do a ton of research on climb weather patterns, snow conditions, rock conditions and then you ask a lot of questions to other people who have tried it, so a ton of it is preparation. You can't control the weather on the day but you can control understanding what the general weather patterns are during that season during that specific month. What other people have experienced during that time and you can control your fitness level."
Anyone can see the metaphor Chin was making between climbing and running a business. He added to his metaphor when talking about how to dig deep when trials come and "when it feels like all is lost."
"On the Meru climb, we brought seven days of food and we were on the climb for 19 days and we were also caught in a storm," remembered Chin. "I think the reason why I love to climb mountains is because we find the best versions of ourselves up there and because, in a lot of ways, it's required of you to bring out the best version of yourself. That's one of the beauties that we find in climbing."
From fishing stories, to Amazon's pitfalls, to an Actress's take on her success, to climbing metaphors, I've tried to take the most important lessons the Utah tech scene can take from Pattern's Accelerate Summit. From what I can tell, we have a pretty great community and business hub here in Utah, let's keep it that way and continue to accelerate together.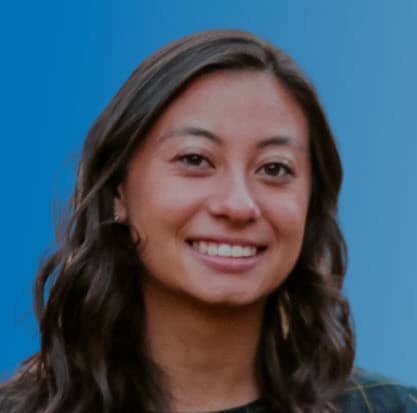 About the Author