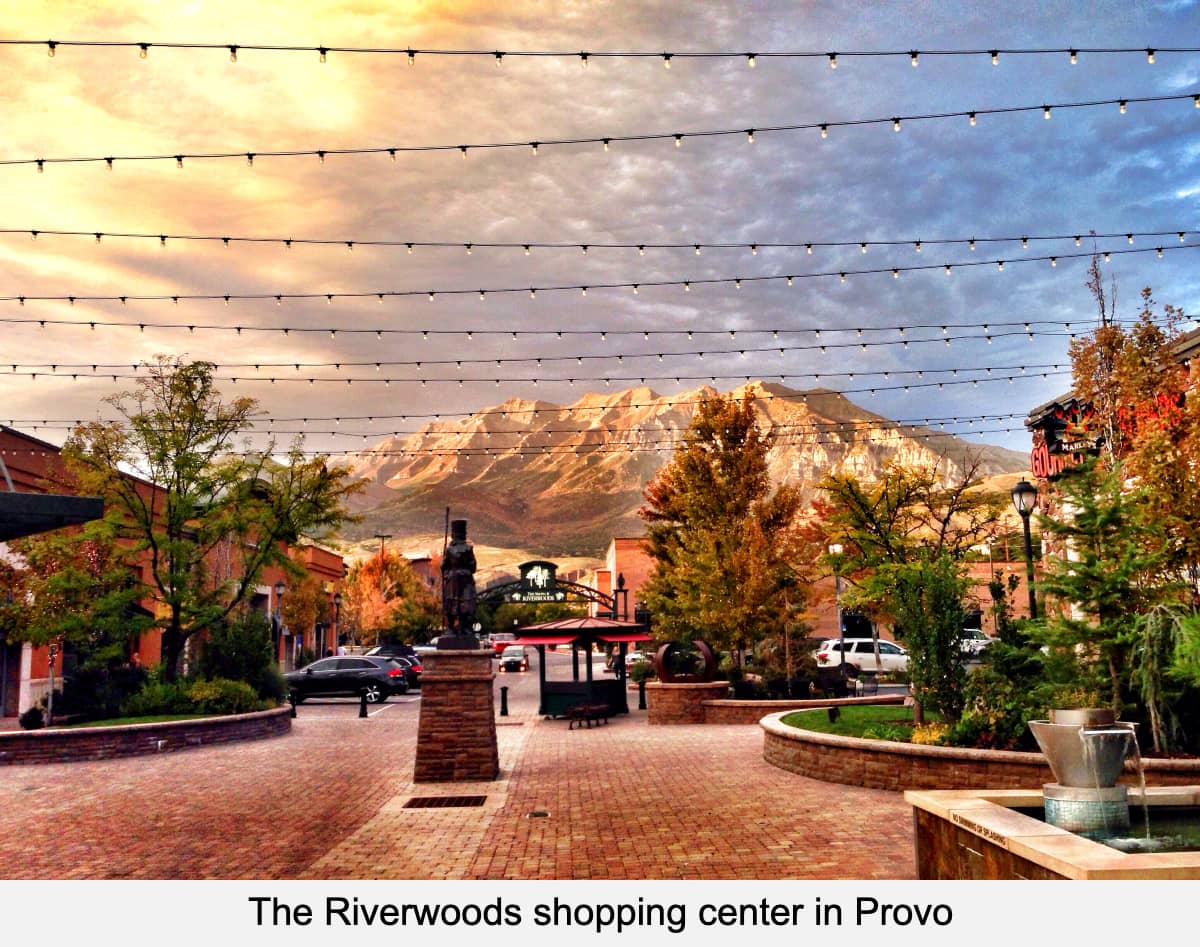 Utah Cities Ranked on List of Top Ten Performing Cities - Here's Why
The Milken Institute, a non-profit think tank based in Santa Monica California, releases a ranking each year for the best performing cities based on "GDP growth, wage increase, job creation," and other factors. Comparing over 400,000 metropolitan areas, it may well surprise people that Utah has three cities in their top ten ranking this year. Provo-Orem was ranked at number one, with Salt Lake City following closely behind at number four, and Ogden-Clearfield jumping into the top ten at number nine.
This was just for larger cities, with populations greater than 250,000. The Milken report also ranked smaller metropolitan areas, where Utah also shines. Logan ranked second in the country this year, with St. George close behind in fourth place.
As stated by the report, "These cities registered levels of wage and job growth that were far above the national median. They also had relatively affordable housing costs and very high levels of broadband access, indicating inclusive growth based on housing and infrastructure investment."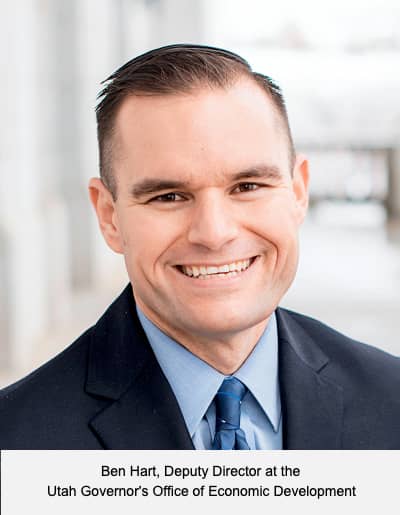 It's impressive to have one city make the list, and Utah had three (five if including smaller metropolitan areas). Utah cities knocked out bigger cities like San Francisco and Orlando. Utah is also the only state that had more than one city in the top ten.
"I love the Milken study," said Ben Hart, Deputy Director at the Utah Governor's Office of Economic Development. "I like their studies in general, but one of the things they do is really regionalize the growth and the economic indicators. They're able to show why each one is unique."
So why Utah?
Natalie Gochnour, Director of the Kem C. Gardner Policy Institute at the University of Utah, explained how the Milken Study examines states proving themselves on multiple metrics; well educated labor forces, hard working labor forces, birth rate, etc. She confirmed that the Beehive State scores well across numerous variables.

"We have some locational advantages being at the center of the Mountain West. That makes us the health center and the distribution center, and a seat of government at least in the case of Salt Lake City," Gochnour said. "We've always been a growth state. It's our constant companion. But the last couple of years have put an exclamation point on all of it."

Keith Morey, the Economic Development Director of Provo City, said that the rest of the country is just starting to understand and appreciate what Utah has always had.

"I grew up moving around the country with my dad, and I always kind of thought that I'd end up somewhere else. He'd worked in Washington D.C. for quite a while and I love that area," said Morey. "But once you get out here you kind of find yourself saying, 'Now, why would I leave again?' For those of us that have lived here, we recognize what the rest of the country is just starting to see. Especially as they experience difficulties operating in other areas, where access to qualified employee talent is difficult to find, where costs of living are high, where crime is soaring, and access to outdoor amenities like we have aren't as proximate. People just start recognizing what we have."
Provo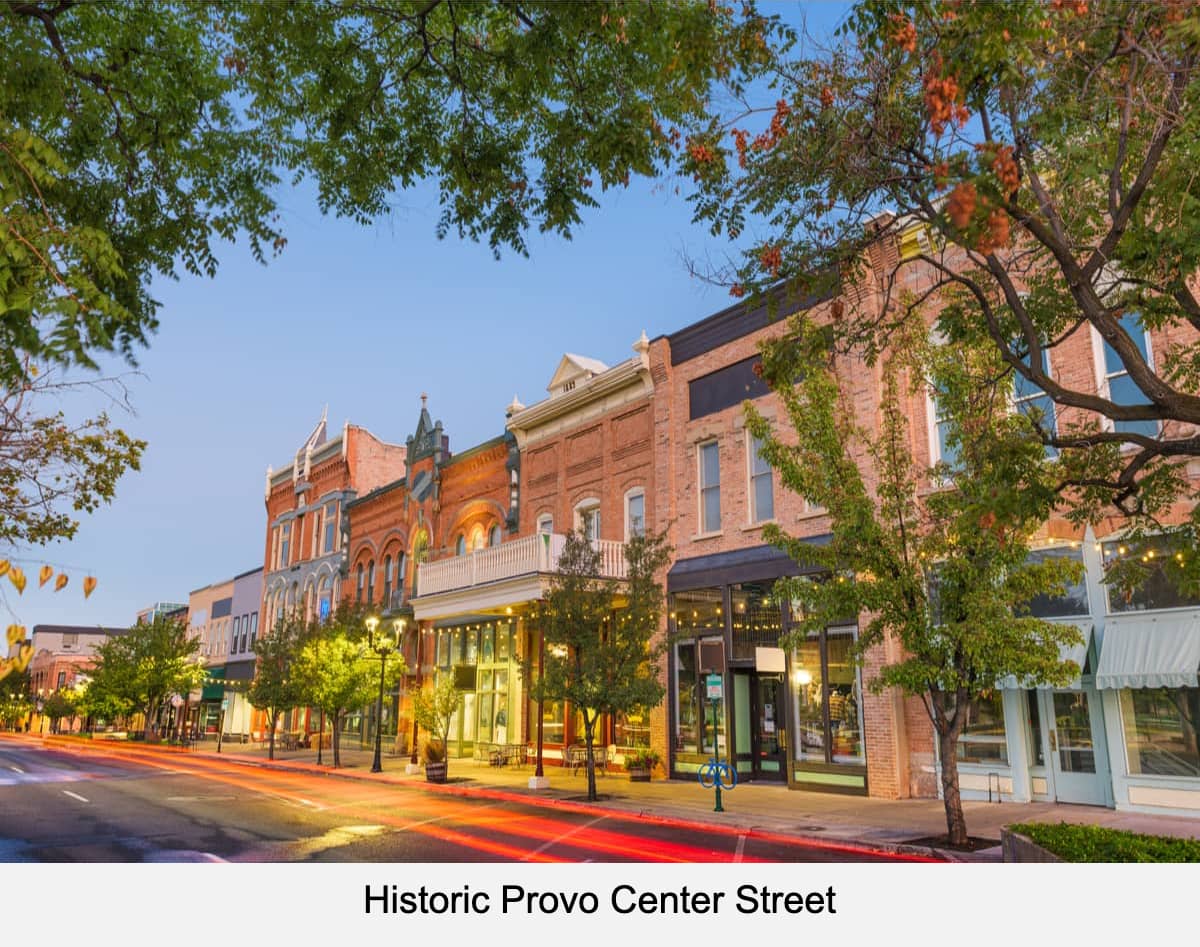 Provo tops the list as the best performing city of 2021. Morey said there are several factors when evaluating why Provo received such a high ranking.

"I'd like to say this [ranking] is all a reflection of how wonderful Provo is, and I definitely think that there was some of that. But I think some of it's a natural response to growth in Utah," Morey said. "The Salt Lake area is really getting built out. Your opportunities to find places close to employees, or good access to transportation, or whatever, are becoming more difficult to find. The whole Silicon Slopes area has really built out quite a bit. And so I think those people start to look for opportunities that are close, but don't have the same levels of congestion or competition that you have in the Silicon Slopes area in Lehi. Provo becomes a natural result of that. I think they start looking at companies like Qualtrics going public recently with the largest IPO the state has ever seen, and people start to say, 'Well, why?'"

Provo is often seen as a startup hub and tech launchpad. Several companies stand out as specific examples.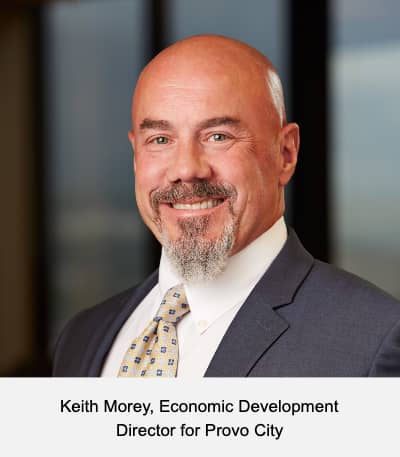 "I think you have to point to Qualtrics for sure. I think you have to point to the fact that we've got Vivint here as well. This is the home of Nu Skin," Morey said. "It's the home of a lot of entrepreneurship, that's generated from tech companies and students at Brigham Young University and UVU, and them trying to spawn the ideas that they've been working on through their college years."

Ben Hart also listed several companies and trends as drivers in the Provo-Orem area, including the Adobe expansion, Pluralsight, Domo, and Qualtrics. They also acknowledged the contributions of other tech companies that most hadn't heard of yet, but that were still growing in "leaps and bounds."

Provo has two universities adding to the work force and overall productivity; Brigham Young University, a private university with over 33,000 students, and Utah Valley University, a public university with over 39,000 students.

"As [groups like the Milken Institute] see what's going on in Provo, they find an incredible quality of life," Morey said. "They find access to two incredible universities: Brigham Young University and Utah Valley University, affordable housing, great access to outdoor amenities, and growth is a natural result."

According to Morey, there may be something else contributing to Provo's growth and appeal, and it probably isn't something people often point to. It has to do with the attraction of a quaint historic city. Provo was founded in 1849, and still has a very historic aesthetic, with original homes and buildings near downtown. They're particularly known for Provo Center Street.
"I think that is some of the uniqueness of Provo," Morey said. "There are a lot of historic elements about Provo. One of the things that Utah has suffered from is there are a lot of cities that don't have a traditional mainstream kind of downtown. They've tried to find ways to recreate that, like Farmington did with Farmington Station. Provo really benefits from the fact that we've got a historic downtown area and some other historic homes throughout the community. It just adds a level of traditional flavor to the community that other places don't have. When you ask 'Is there a reason why Provo?', I think some of that quaintness is really important in community identity. People feel that when they come visit."
Salt Lake City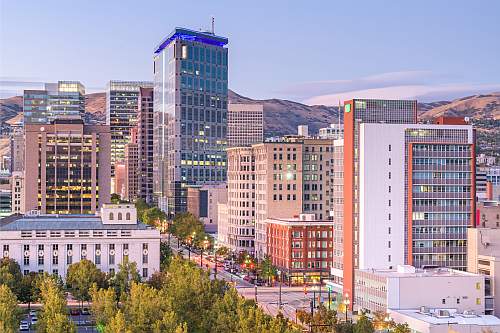 Salt Lake, which was ranked fourth in the best performing cities, had the largest change from the previous year by moving up 21 places from their listing of 25 in the Milken Institute's Best Performing Cities of 2020. No one seemed surprised at Salt Lake's ranking. As the biggest city of Utah, its growth has been relatively constant, and as Hart said, "Salt Lake speaks for itself."

"Great things happening in Salt Lake City and County," Hart said. "For those who are looking at downtown Salt Lake City right now, you see a ton of cranes, you see a lot of economic activity."

Gochnour agreed. Salt Lake is booming with economic activity. In her piece in the American Affairs Journal in 2020, Gochnour cites multiple studies in which Salt Lake City was highly ranked in both income equality and social mobility. In 2019, the Census Bureau, which reports on income equality, ranked the Salt Lake City Metropolitan area as having the best income equality out of other comparable metropolitan areas with populations under one million. In a 2014 study at Harvard by economist Raj Chetty and team, two cities, San Jose, California, and Salt Lake City, were found to have the highest rate of absolute mobility in the country.
"I think financial services and FinTech is critical," Hart said. "The important employers in downtown Salt Lake City are Zions Bank, Goldman Sachs, Wells Fargo - a lot of financial institutions that are doing amazing work. I think financial services is the backbone, even though people point to tech and say, 'It's sexy, people can see it.' But the reality is financial service is really one of the important foundations in the economy."
Goldman Sachs Inc., which is according to their website, "a leading global financial institution that delivers a broad range of financial services," has its fourth largest office in Salt Lake City. The firm employs over 38,000 people worldwide.
"In every case, the thing that sets Utah apart is we all are becoming a subsector of tech," Hart said. "It sounds really odd, but up north, it's defense tech. A lot of people don't recognize that Goldman Sachs even has a lot of their tech talent here in Salt Lake City, and then [all the tech firms] down around the point of the mountain. So I think the subsectors in tech are really, really important. People love to talk about tech and how cool it is, but RootsTech is huge! Help tech in Utah is huge! All these subclusters are important."
Each interviewee referenced Salt Lake as the original standard. Salt Lake City, like Provo and Ogden, has nearby colleges that add to the economic growth and opportunity, the University of Utah and Salt Lake Community College. As the capital of the state, Salt Lake definitely has unique advantages. It's the only city in Utah with an international airport, leads the state in its transit system, and has the largest population. The Economic Development Director of Ogden City, Tom Christopulos spoke to that.

"We've all had major things to do and Salt Lake has kind of been a phenomenon in the United States. It's just such an economic engine right now," Christopulos said. "In some ways it's just hard to look at what they continue to do and we all work together but we also compete."

"A lot of it goes back to some really good fundamentals," says Keith Morey. "We've had a really strong fiscal approach to government for decades. That adds a level of stability that a lot of other states and cities don't necessarily have. Historically, because we've been so well managed, we can do things that other states can't do. We're not as impeded by excess debt and high taxes and things of that sort. That lends some freedom that a lot of places don't have."
Ogden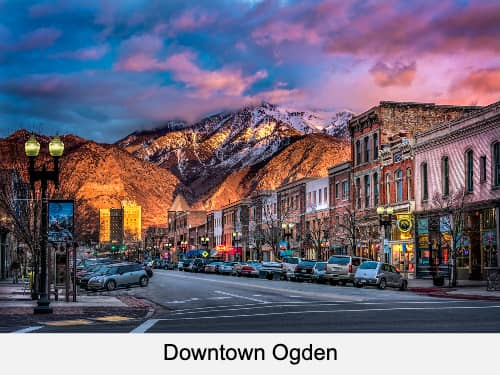 Maybe the most surprising to make the list is Ogden. According to Christopulos, the city's success is not new, just not widely known. Unlike its neighbors to the south, Ogden City has not received the same type of attention for their growth.

"We've been in the top 20 or hovering in and around that for over a decade," Christopulos said. "The growth in the last year is just the rate of growth that you see in those industries; the manufacturing, the aerospace, and related fields, all of that pushing us up a level. The other thing that's happening is, as more and more of Salt Lake fills in and Utah County fills in, there has to be places for businesses to locate and react, and there's more natural land around Weber County and Box Elder County."

Ben Hart agrees with Christopulos that Ogden often flies under the radar when compared to other large cities like Salt Lake or Lehi. Ogden has unique placement and surroundings that contribute to their economic success. With Weber State University nearby, there's good support for the workforce. With Hill Airforce Base in the area, there's a high manufacturing need for aerospace materials.

"Ogden is doing great things as a city alone, but when you add it in with the MSA (Metropolitan Statistical Area), you're adding in a very important component, which is Hill Air Force Base," Hart said. "So we see greater growth around Hill Air Force Base than probably anywhere else in the state. It's not as well noticed because it doesn't pop like it does at the point of the mountain with Silicon Slopes. But our defense tech industry right now in the state of Utah is booming. It's exploding. Led by Northrop Grumman, [who is] doing a ton of hiring right now. It's really the Ground Based Strategic Deterrent (GBSD) program, and it's how Utah's playing a very critical role in the defense of our country, as we consider our nuclear programs."

Northrop Grumman is the fourth largest defense contractor in the world by defense revenue and total revenue. It's the sole provider of GPSD, or "Ground Based Strategic Deterrent" missiles for the U.S. military. Much of that development and production will happen here in Utah, with the surface-to-air missiles then housed at Hill Air Force Base.

"We're one of the largest distributors of airbags, and we're also one of the largest areas of aerospace. We're one of the three largest aerospace centers in the United States [with] GBSD growth, which is the old intercontinental ballistic system," Christopolus said. "All of those things are contributing. We don't have a domination in any one industry. We're also doing a lot of distribution. We're the largest exporter in the state of Utah."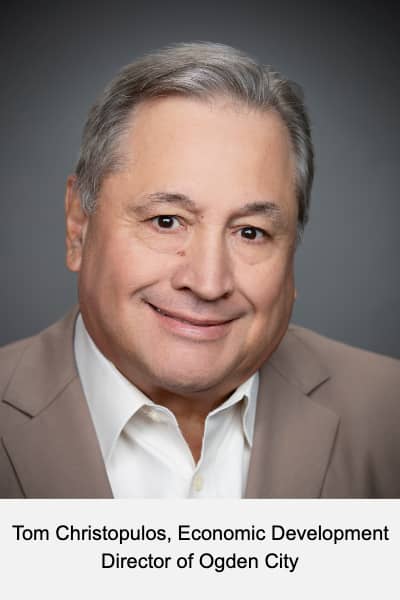 Christopulos explained the Ogden MSA has seen significant growth in GDP over the last 10 years. He said the Milken report downplayed tech growth, but that Ogden is more focused on manufacturing growth, adaptive technologies, and carbon fiber aerospace components.

"Our largest growth is coming out of Business Depot, Ogden," Christopulos said. "In 2000, so 20 years ago, it was non-existent. Now there are 65 companies there. We have over 6,500 employees, nearing 7,000."

Both Gochnour and Hart mention Northrop Grumman as responsible for a fair amount of growth.

"They've got a big contract that they've landed. It's an intercontinental ballistic missile contract. And it's north of $200 million," Gochnour said.

With all this growth, Ogden is running out of a resource they thought they'd always have: space for housing.

"We're about 30 or over 35 years ahead of our original projection in the development. So that's the good news," Christopulos said. "The bad news is we're almost out of space, a product that we thought we would have for a long time. So we have three years of inventory left."
What does this mean for the future?
With growth comes the question of sustainability. What needs to be done to prepare for continued growth and prevent problems seen in other growing cities?
"Things are going relatively well right now," Christopulos said. "It's going to be a struggle for cities to keep up with the rates of growth, because we're all at a different age in our development pattern. Ogden is the oldest city in the state of Utah, it's actually incorporated before Salt Lake. So we have other additional things that we've got to kind of play. We have infrastructure that's over 100 years old, which in the national state of things is not all that old, but in the state of Utah that's quite old."
Christopulos says infrastructure considerations are vital when looking to the future.
"Infrastructure is like water to the valley. Where you see water you're going to see trees grow. Where you see infrastructure, you're going to see new development pop up," Hart said. "I think that dedication to pay for more infrastructure, opening up more areas, is going to be really critical. But we're going to have to have high speed trains, and I am ecstatic to see them. That would be a double tracking FrontRunner [the passenger rail line running between Ogden and Provo]. I think that really helps. I think healthy investments into public transit and mass transit are critical."
Christopulos and Hart aren't the only ones considering Infrastructure. The legislature had several bills this session focused on Utah's infrastructure, including HB433 and HB348. HB348 outlined significant provisions to economic development, including renaming the Governor's Office of Economic Development to the Governor's Office of Economic Opportunity, and establishing the Unified Economic Opportunity Commission to develop a statewide economic development strategy.
"With the passage of HB348, Governor Cox is laser focused on not just recruiting new businesses to the state of Utah, but how to work together to make sure that we don't stress and break our infrastructure system. How do we make sure that we're providing all types of affordable housing? How do we make sure we're coordinated between the state and our local communities?" Hart said. "The new Unified Economic Growth Commission will really really be focused on ensuring we don't become like California, because there are definitely dangerous signs out there for sure."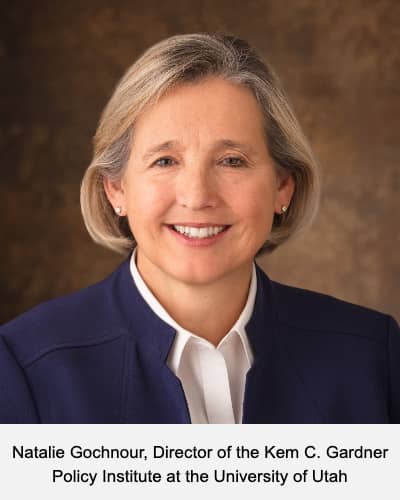 In fact, there were multiple comments made about avoiding the same mistakes as California with regard to housing. High housing costs are a common fear in sustaining growth, and will be covered in a follow up to this article. Gochnour also referenced this legislature session as significant to Utah's economic growth.
"There's an imperative that our leaders very much pay attention to growth and make sure they invest. Growth isn't without its costs," Gochnour said. "The Utah legislature just made a historic investment in transportation infrastructure this session. It's one of the largest bonds we've ever done. And that's exactly what they need to do, because you must invest in caring for the growth or it'll create problems. Congestion, affecting your life quality, and certainly air quality becomes a real challenge."
Air quality was also consistently mentioned as a physical manifestation of Utah's, and specifically Salt Lake City's, growth.
"We're in strong growth, there's no question about that," Hart said. "As you look back over the demographics and our growth trajectories over the last 100 years, we have these peaks and plateaus. Just because the growth has always been going pretty strong. That being said, we have not ever had the explosive unsustainable growth, like California, but we've pushed the boundaries, and we've stressed our infrastructure. Air quality might be the one area where we have seen significant decreases. There's a lot of issues related to that, but there's no question - we're a really, really good economy."
Of the foreseeable problems like air quality, housing, and sustainable infrastructure, Gochnour offers her recommendation: prioritize.
"I think the most important thing the state needs to do is prioritize," Gochnour said. "By that, I mean there are parts of rural Utah that are both in need of economic development and also have opportunities. You want to focus on those areas. I would prioritize, and then as part of that prioritization, focus on the regional centers. We've done a lot of research that identifies the state's economic regions like Carbon and Emery county, Utah's coal country. If you focus on Price you help it all. Richfield is a regional center. Vernal is a regional center. Brigham City is a regional center. I would argue that investing in the regional centers helps all the surrounding areas."

This article is the first of a three part series by Eliza Jane Pace focused on Utah's economic development, housing and effects of the COVID-19 pandemic.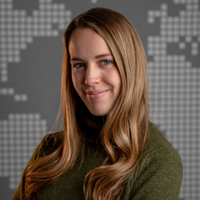 About the Author