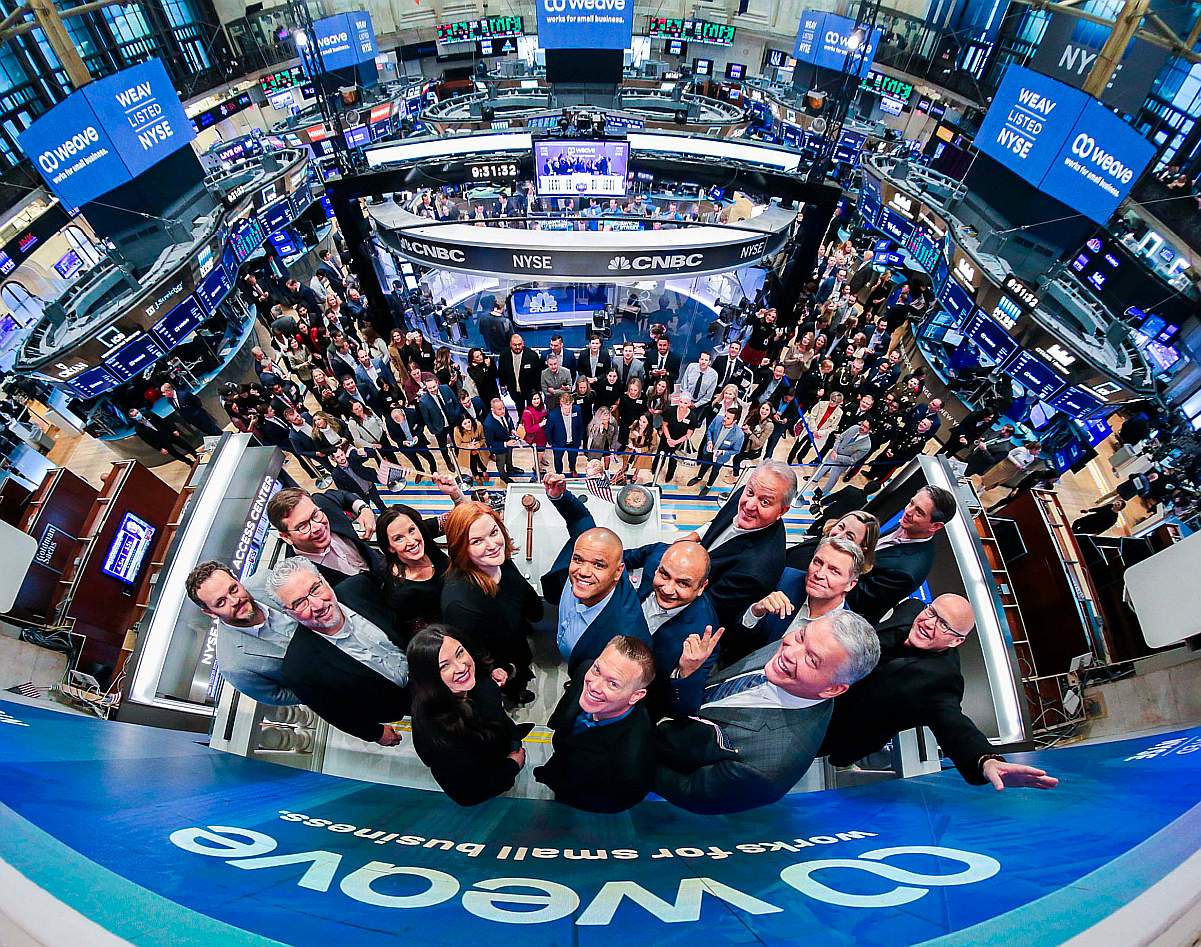 What Was Missing from Weave's IPO? The Founders.
Last Thursday, November 11th, Utah's own Weave debuted on the New York Stock Exchange, as covered by TechBuzz News. The stand was full of Weave executives and other leadership as trading began on the NYSE, with CEO Roy Banks ringing the opening bell.
Congratulations to Roy Banks and the @getweave team on this amazing achievement 👏 We're so thrilled to welcome you into our #NYSECommunity today 🏛 $WEAV #VeteransDay pic.twitter.com/2y6AiKL1nr

— NYSE 🏛 (@NYSE) November 11, 2021
But there was a notable absence from the celebration.
The founders of Weave, so widely recognized and publicly thanked by those familiar with the Weave story, were not on the stand as CEO Roy Banks rang the opening bell. According to Weave's co-founder Clint Berry, former CEO Brandon Rodman wasn't even invited.
"Weave debuted on the NYSE yesterday," recounted Rodman on LinkedIn and Twitter. "This is how my wife and I celebrated. Quietly outside. Passersby took our photo without knowing we started the company on the banner."
"​​I had every emotion going through me standing in front of the stock exchange while the bell was ringing inside and people were on TV celebrating from the podium."
In attendance: Weave's C-team and members of the board. Those who started before Weave's $900 million valuation from Tiger Global include Marty Smuin, COO, and Alan Taylor, CFO. Those who started after that round (inheriting a $970 million post-money valuation) include Roy Banks, CEO; Wendy Harper, Chief Legal; Ashish Chaudhary, CTO; Matt Hyde, CRO; Matt Hillary, CISO; and Angie Balfour, Chief People Officer.
Weave Co-founders Brandon Rodman, Jared Rodman, and Clint Berry were unavailable for comment by the time of this publishing, though Brandon Rodman did share thoughts on social media. The IPO generated many congratulatory posts, along with criticism that the founders and other former leadership weren't invited to participate.
"So an iconic company in Utah, Weave, debuted on the NYSE this Thursday," said Alex Lawrence, PhD, professor at Weber State University and seasoned player in the Utah startup scene. "What an exciting and great thing for Utah! Yet I wasn't all that excited. Why? The founders, particularly recent former CEO and Co-Founder Brandon Rodman were *outside* of the NYSE taking their own photos while the new CEO and investors rang the bell."
Lawrence's sentiments were echoed across LinkedIn and Twitter.
"It's a shame that the founders of Weave HQ weren't invited to attend their IPO," said Jon Bradshaw, founder of Codebase.com and veteran operator of BoomStartup, Silicon Slopes, and UtahAngels. "Management invited one of the initial VCs but didn't include the founding team. The founders took the company 99% of the way there, and new management came in and took all of the 'glory.' They rode in on the coattails of much blood, sweat, and tears."
The fervor even reached outside of Utah. Garry Tan is the Managing Partner at Initialized Capital, one of Weave's earliest investors. Tan was also a partner at Y Combinator when Weave entered the program in 2014.
Tan was brief but direct on Twitter. "TLDR: Founder builds company. New management replaces founder, but doesn't have basic decency to invite the founders (who exceeded growth goals for 12 consecutive quarters, >100% yearly growth previously) to the official IPO. To the new mgmt: Have some class and do better." Tan included the "Enraged Face" emoji, and linked to Brandon Rodman's thread on his experience during the IPO. Rodman's thread outlines some of his story, including his ouster. "Then, almost overnight, I was no longer running Weave. I didn't understand. No one did. It didn't make sense. But it happened."
Responses to Tan's tweet called the event "gut wrenching," "heartbreaking," "disgusting," and "what every founder dreads."
Weave representatives confirm that management and investors are currently in the midst of a "quiet period" following the company's IPO, per SEC-regulated limited duration SEC requirements.
Replacing founders with new management is common and often necessary as a startup matures from the garage to the trading floor. The skills necessary to manage vary dramatically as a company scales. "For founders to stay relevant and continue to add value, they need to add the personal management skills necessary that the company needs as it grows," says John Richards, CEO and Founder of Startup Ignition and mentor/angel to several Utah startups. "Otherwise, the founders are hopefully self-aware enough to come to the realization that in order for a company to be successful, they might need to move into a different role within the organization or step away completely if that is what is best for the company. What seemed to strike observers in this case was the complete absence of all founders from the stand. Only the parties involved know the reasons for the absence of founder Brandon Rodman."
Many posts noted just how far the original founders had taken the company. Rodman was replaced as CEO in July 2020, but it was only five months ago that he stepped away from Weave entirely, resigning from his position as both Chairman and board member. Clint Berry left the company at the same time, according to LinkedIn.
A brief survey of LinkedIn indicates that other leadership have also recently departed the company. Former VP of Product Johny Wudel left in August 2021 after almost four years at Weave. Former Chief Architect Jason Newman also left in August after over seven years with Weave. Former Director of IT Operations Jake Larsen left in June after over ten years with Weave.
Also of note: according to an anonymous source, more than 60% of the employees who were at Weave in October 2019 (when the Series D round was completed) left the company before the IPO. In response, Weave says the 60% number is inaccurate, though a brief review of employee profiles on LinkedIn seems to confirm that leadership turnover has been very high in the past 18 months.
"It's a fantastic company with so much potential," added the source. "It's just sad that the founders were alienated and pushed aside through the IPO. Current and past employees are feeling it."
Brandon Rodman has made a reputation for himself by crafting a deliberate and employee-focused culture at Weave. His signature "#peoplenotemployees" hashtag became a staple of his thoughtful posts on LinkedIn about the how and why of putting employees first. Rodman posted dozens of times on the topic, and the phrase even appeared on Weave billboards. Employees noticed, and affirmed it was more than lip service from the founder.

"Years ago I had a mentor tell me to never stay at a company for longer than 2 years, and after having been at some pretty culturally toxic startups, I took this conversation to heart," said Gentry Thomson, Head of Event and Field Marketing at Weave. "That advice was fresh on my mind when I was hired on at Weave as one of the first 100 employees, but began to slowly shift as I experienced what Brandon Rodman, Jared Rodman, and Clint Berry had created. For the first time as a 20-something who was hopping from tech startup to tech startup in Silicon Slopes, I found a company that really wanted to make a difference for its employees… and it changed everything for me."
"I have profound gratitude and respect for Brandon Rodman, Clint Berry, and Jared Rodman for how they chose to run this company and treat its people," said Chad Tippets, Inbound SDR Manager at Weave.
"Brandon Rodman (CEO) said that he wanted Weave to be a place that employees can look back as the best job that they have ever had, #peoplenotemployees and I can truly say that is the case for me," recalls Mike Buckner, former Director of Business Development at Weave. Buckner recently stepped away from Weave, as have numerous others in the past years since Rodman's ouster.
From the outside, the reasons for replacing Rodman are unclear, or if those reasons relate to his absence from the IPO bell ringing.
"As I participated in the events of the day my mind went to a text conversation I had with Brandon Rodman a few days ago," said a LinkedIn post from Blake Modersitzki, Managing Partner at Pelion Venture Partners. Pelion invested in Weave's Series B, C, and D. "He reminded me that we almost sold Weave in 2016 for next to nothing. With Brandon and [Weave CFO] Alan Taylor's leadership we took a chance and kept building. Today was a historic event for Weave and I'm so grateful for that management team who had the courage to keep going. The journey of every startup is filled with extremes. The founders of Weave… Brandon Rodman, Clint Berry, and Jared Rodman deserve a huge THANK YOU as they played an extremely important role in the building of an iconic company. They are extraordinary individuals who founded a company that hit unicorn status and went public on the NYSE."
For his part, despite the ups and downs, Rodman is choosing to look ahead with optimism.
"What's next for me?" he concluded in his social posts. "I have unfinished business. I want pictures and to celebrate from inside the NYSE while taking a company public, so I'm starting another company. But that is for another post at a later time."
Weave is a Lehi-based patient communication platform for the medical and dental industry. The company's funding history prior to its November 11th IPO, from Crunchbase, includes:
a $70M series D round in October 2019 after it had doubled its revenue in 2018 and grew from 300 employees to 550+. The D round was led by New York huge fund Tiger Global at a $970M post-money valuation. Participants in the Series D included STCAP of Palo Alto, Pelion Venture Partners of Salt Lake City, Lead Edge Capital of New York, Future Shape of Paris, Crosslink Capital of San Francisco, Catalyst Investors of New York, and Bessemer Venture Partners of Redwood City, California.
A $37.5 million Series C round in December 2018 led by Lead Edge Capital. Pelion, Crosslink, Catalyst and Bessemer participated in the C round.
A $23 million B-2 round that closed in September 2017. This round was led by Catalyst, and joined by Pelion, Crosslink, Initialized Capital and Hack VC both of San Francisco.
A $17 million Series B-1 round in November 2015 led by Crosslink. Y Combinator of Mountain View, Pelion, Peak, Initialized Capital, and AlbumVC of Lehi participated in this round.
A $5 million Series A round in June 2014 led by A.Capital Ventures of Menlo Park. Other participants included: Y Combinator, SV Angel, Initialized Capital, Homebrew, Funders Club, Fuel Capital, and Darian Shirazi.
A $1 million seed round in January 2014 from Y Combinator, SV Angel and Initialized Capital.
Note: Weave provided the following statement to TechBuzz: "Weave is extremely grateful for the contributions of its founders. We continue to stay focused on executing the company's mission of serving small businesses with enterprise-level software to help them communicate, attract, retain and engage customers—they are the heroes of our company story."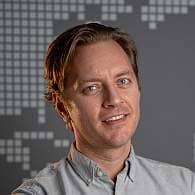 About the Author