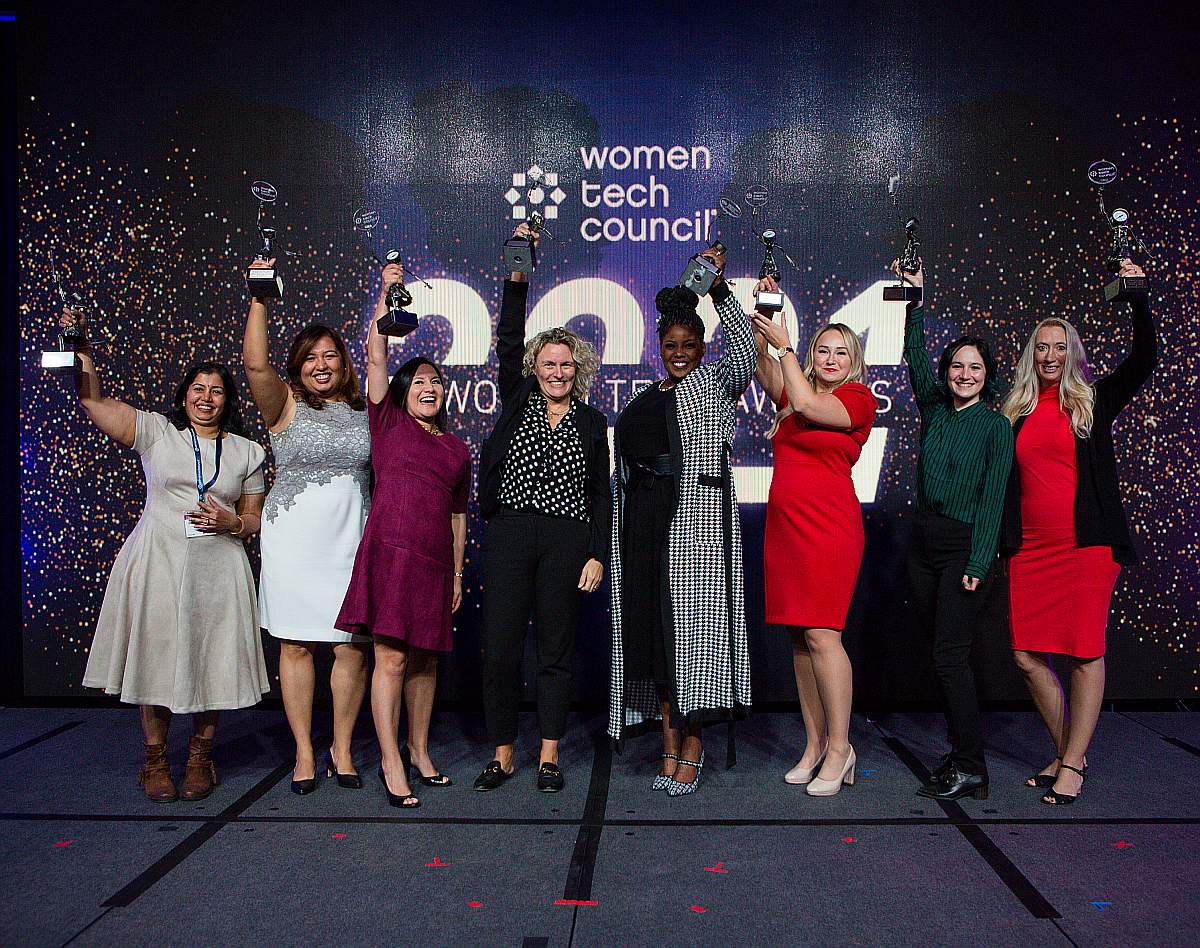 Women Tech Council Awards Leaders in Tech
On September 30th, 2021, the Women's Tech Council announced eight award winners from its twenty four finalists. Each woman was recognized for their influence and innovation in the technology sector in Utah.
Following are profiles and highlights of the eight award winners:
Community Leadership: Juliette Bautista, Founder and Director of Club Ability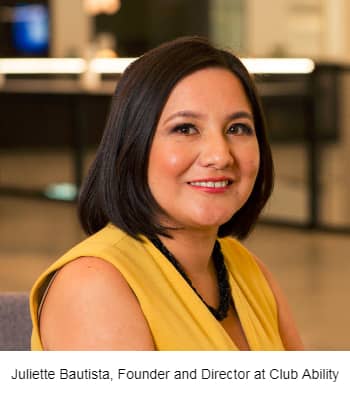 Juliette Bautista, originally from Peru, moved to Utah so her daughter could get necessary medical treatment and care. While here, Bautista saw a need for after school coding classes.
Bautista worked in tech in Peru for 15 years and was one of the up-and-coming young women executives in Peru's corporate ecosystem. The experience positioned Bautista perfectly to teach coding when she arrived in Utah.
"Our community—not only Peruvians but Latinos—we want to give back value to the United States," says Bautista. "We know that this country is amazing and gives us a lot of opportunities. In my case, I try to give my technology skills to this country."
In 2019, Bautista founded Club Ability, an independent club focused on helping children and minorities learn to code. She started to teach coding at Bountiful Food Pantry and soon connected with six more nonprofit organizations to reach more students.
Club Ability has several courses and stages. Classes are split into beginner, intermediate, and advanced. Every month the group works with roughly 50 students.
Educational Leadership: Lindsey Henderson, Utah State Board of Education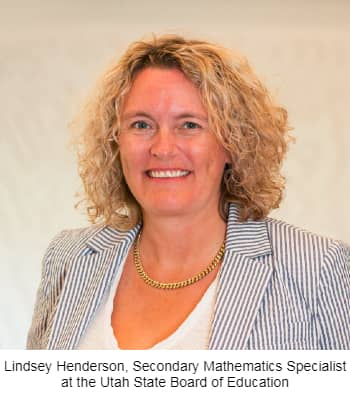 Lindsey Henderson is the Secondary Mathematics Specialist for the Utah State Board of Education.
Henderson describes her job as constantly changing, but her goal is to oversee the culture of secondary mathematics in the state of Utah. Secondary mathematics covers junior high and high school math, dealing with ages 11-17. Henderson also oversees endorsements for teaching math and regularizes the mathematics standards.
"Building the community is my primary goal, and making sure the teachers feel open, welcome, and supported," says Henderson. "I want them to take risks and try things in the classroom, and adjust those things to make sure it's truly best for kids. I want them to feel supported in being creative and trying new things."
Henderson enjoys being with students and teachers and often visits them in the classroom. She works hands-on and keeps in touch with teachers through newsletters and direct emails. She also likes to push her teachers and is a great mentor, encouraging them to spread their influence where they can.
Engineering Trailblazer: Mandy Rogers, Northrop Grumman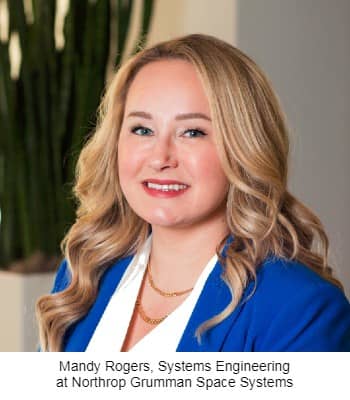 Mandy Rogers is the Integrated Functional Capability Leader, Systems Engineering Manager in the Strategic Deterrent Systems Division at Northrop Grumman Space Systems.
Roger focuses on solving tough technical problems and works on generating the next generation of deterrent systems. She works with all levels of Northrup's technology stack, including architecture, software, hardware, and firmware, from the VP level all the way to the individual contributor. Rogers breaks down complex problems so they're easier to understand and solve.
"A quarter of the people I work with are female technologists and female leaders, which is super exciting to see," says Rogers. "I was the sole female engineer graduate when I graduated college, and in prior jobs, I was the only female technologist in my entire team. It is great to see diversity not only of gender but of thought… bringing people in from all over the world and the country to solve the hardest problems our nation faces."
Change Catalyst: Nikki Walker, Domo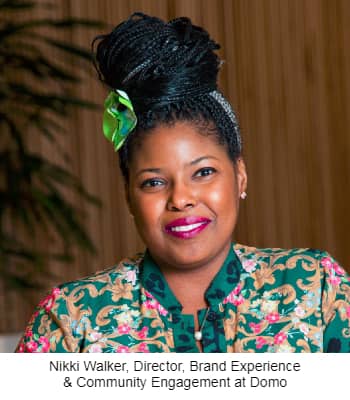 Nikki Walker is the Director of Brand Experience and Community Engagement at Domo
Walker explains, "[My job] allows me to be in the community, finding out what resources our company can lend to the growth and development of diversity and inclusion in Silicon Slopes and beyond."
Diversity and inclusion has been a major part of Walker's career. During her 20 years in public relations, Walker created an ethnic beauty division in her PR firm in New York and worked with many ethnic brands to expand their outreach and media coverage.
Walker understands the importance of knowing a company culture as well. "I always tell students interviewing for a position—you should be interviewing the company," says Walker. "They should tell you why you need to be there… especially telling you the culture of their company."
Transformational Leadership: Sadiqa Mahmood, Health Catalyst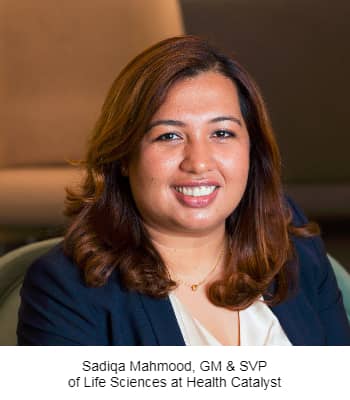 Sadiqa Mahmood, DDS, MPH is the Senior Vice President and General Manager of the Life Sciences business at Health Catalyst. Mahmood is based in Boston, Massachusetts and has worked in both the United States and Asia.
Mahmood grew up in a family of physicians and mechanical engineers. Her family owns one of the largest car manufacturing businesses in Asia and the UK. She worked there while getting a degree in dental hygiene and doing a residency in dental oral surgery.
With a background in both clinical medicine and engineering, Mahmood turned her career towards driving healthcare technology. Now she focuses on utilizing technology, data, and analytics, to produce information that helps with drug development.
"When you are a clinician, you impact one patient's life at a time," says Mahmood. "What I do today allows me to impact multiple individuals, countries, and sometimes even have a global impact from the work that I do. That drove my interest and my ability to move from clinical medicine to what I'm doing right now."
Cybersecurity Leadership: Sherrie Cowley, 3M Health Information Systems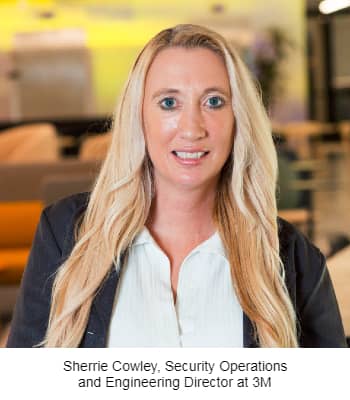 Sherrie Cowley is the Director of Cyber Security Operations and Engineering at 3M Health Information Systems. She's worked in technology for over 25 years.
At 19, Cowley found a passion for technology and was already overseeing an entire department of 40 technicians at Franklin Covey. Cowley went back to college and balanced work, school, and a family as she studied technology.
"I was finishing college full time, sometimes taking 7 classes, working as an engineer at Adobe, and raising four kids," says Cowley. "I found that you need to focus on the things that matter most, the big rocks. I would make sure we had family vacations. When my kids look back to that time, the only thing they remember is when they went on a vacation and the different activities that we did… they feel that there were a lot of great moments in their lives where we were there for them."
Prior to 3M Health, Cowley worked as an IT Security and Compliance Director for Swire Coca-Cola, one of Coca-Cola's top bottlers covering the western United States. Before that, Cowley worked as a Security Manager for the Church of Jesus Christ of Latter-Day Saints overseeing security for temples worldwide.
Technology Innovator: Sujatha Sampath, Micron Technology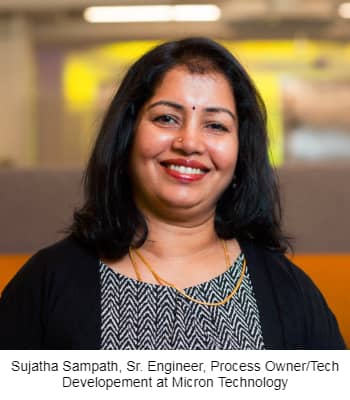 Sujatha Sampath, Ph.D., is a Physicist and Senior Engineer and Process Owner at Micron Technology.
Sampath is a physicist by training. She works on technology road maps and supports operations on Micron's cutting-edge memory products. She works in the process engineering division and has been at Micron for two years.
Before Micron, Sampath did fundamental research on how atomic and molecular structure impact materials' function and has led multi-institutional research programs with both national and international teams.
"I am a condensed matter physicist, and so I'm interested in studying everything small; atoms, molecules, and the nanoworld," says Sampath. "I did a lot of fundamental physics research in the nano space… Once we decode how atoms and molecules work on that scale, that translates to how function happens at a macroscopic scale."
Sampath believes that young women need to see other women in mid-and-high-level STEM jobs to encourage them into those careers. Sampath is involved in the largest physics group in the world, The American Physics Society. She was also selected to be a member of the United States Delegation team to represent the USA in a global summit for women in physics.
Student Pathway Award: Anna Bell, University of Utah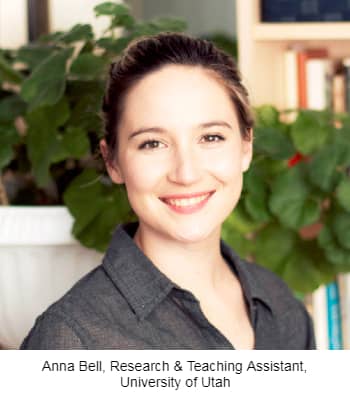 Anna Bell is a Data Science student at the University of Utah. She serves as a mentor for other young women interested in programming.
Bell started her professional career living out of her 1995 Volvo Sedan as a street musician. After becoming an elementary school music teacher, she started programming and gained the confidence to go back to college.
"My highest level of education in math was basic algebra," writes Bell. "Notwithstanding, I completed a multivariable calculus course in Fall 2020 and entered the Data Science major. Today, I am a teaching assistant for the School of Computing and a research assistant at the Geoscience and Engineering Institute."
Bell's first coding class was at 24, and calls herself a 'non-traditional student.' Today she is now a powerful mentor to help women gain confidence and join STEM programs.
"Sometimes you're not going to see other women, but we exist. We're here, and we are excited that you are entering STEM. We would love to help you. So if you ever feel self-doubt, try to find somebody, reach out… because it is really nice to see someone that you can see yourself becoming."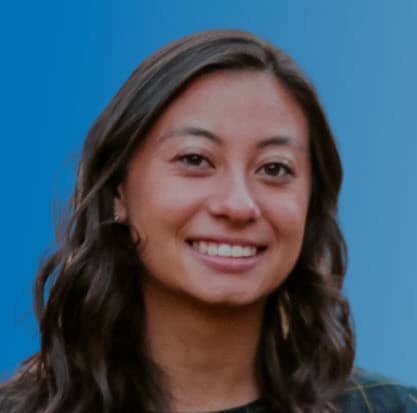 About the Author