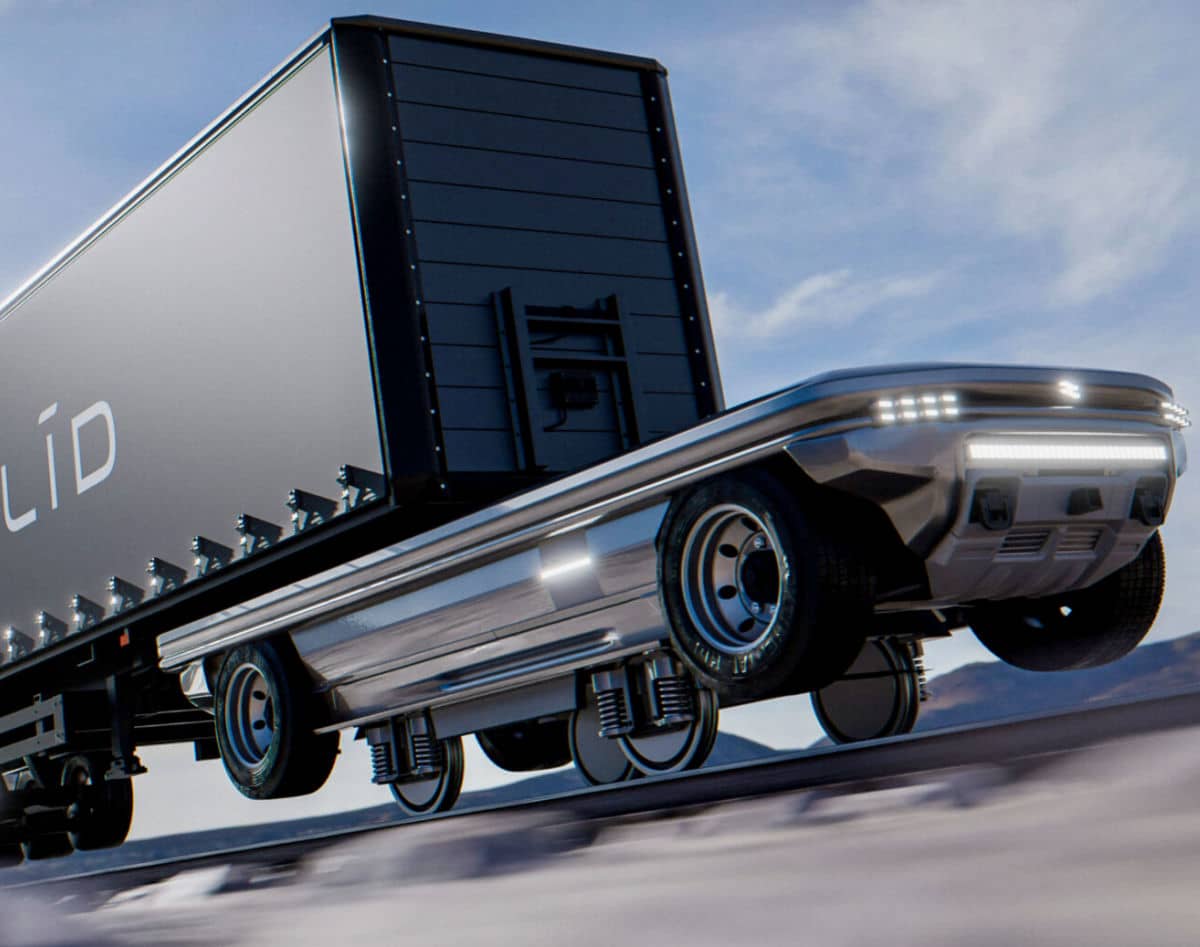 GEGI and Glīd Merge to Develop the First Autonomous Road-to-Rail Solution
By Jenny Rollins
Two Utah-based tech companies are coming together to develop the first autonomous road-to-rail solution. The founders sat down with TechBuzz recently to unveil their innovative transportation solution.
Salt Lake City-based autonomous tech acquisition company Genesis Electronics Group, Inc. (GEGI) recently merged with Glīd, a Lehi-based autonomous electric shipping tech company. Glīd's technology is based around pairs of fully electric Glīd vehicles, or Glīders. These Glīders use best-in-class autonomous software to move under a fully-packed semi-trailer, securely connect to the trailer, lift it, and take it from the road directly onto railroad tracks.
The Glīders are designed to carry any unaltered semi-trailer filled up to its full capacity (60,000–80,000 lbs). Their special wheels can enter train tracks from asphalt, cement, gravel, or dirt. Then the Glīders deploy full-sized rail wheels to transport the trailer at 70–80 miles per hour—roughly as fast as a typical train.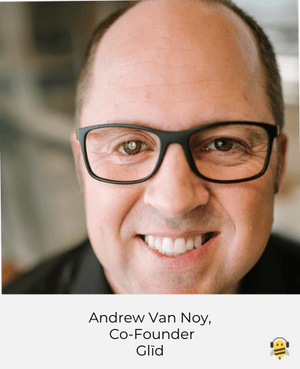 Andrew Van Noy, one of the three co-founders of Glīd, said that the idea for the company came from a shared mission and desire "to decarbonize the road and rail industry and to transform how goods and services are shipped."
In short, they wanted to tackle the environmental toll the shipping industry can take, as well as the human toll—demonstrated by the truck driver shortage and the rise in strikes. Van Noy explained that the solution they came up with for those issues also happened to benefit the trucking and train companies by making shipping easier, faster, safer, and more profitable.
Decarbonizing the road and rail industry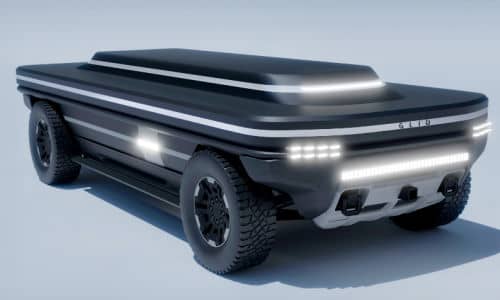 When most people hear "going electric" as a way to reduce pollution, they think of electric cars.
But according to Glīd co-founder Kevin Damoa, most of the smog and pollution is coming from vehicles that use diesel fuel.
"If you look at GHG (GreenHouse Gas) emissions by sector, transportation accounts for 27% of global emissions with the main polluters on the front end of the logistics value stream. These are your ocean freighters, rail transfers, and long haul heavy and medium duty trucks. The impact area is typically in rural areas of the world. Whereas the last or final mile, where most electric OEM's focus their energy on impacts your urban and mostly disadvantaged communities. Our solution bridges the gap between both, serving as a solution to the global decarbonization issue while being a viable product for all communities," says Damoa.
The fully electric Glīders would create less need for diesel fuel, which has become substantially more expensive with the recent inflation. Less diesel fuel means that trucking companies save money while reducing their carbon footprint.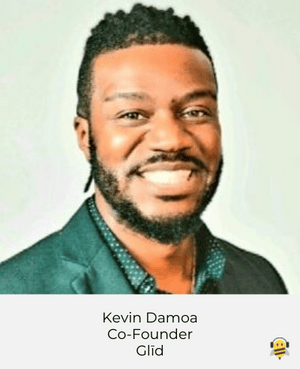 Damoa is a veteran who has served two tours in Iraq with the US Army. He also spent many years fighting fires in California with the Air Force. He was also one of the early members of SpaceX, creating, building, and developing their flight module logistics department and associated programs.
While there, he was in charge of figuring out the logistics, processes, and engineering design for the shipping apparatus that currently transports the rockets today.
Most recently, he was the vice president of operations at Serial 1, working on eBikes. He sees creating electric solutions to better the environment as a personal duty.
"I do what I do because I want to pay for my seat here on the planet, and that's to further our species from an innovation perspective while taking care of the planet that we inhabit. So that's my big driver," Damoa said.
Humanizing the road and rail industry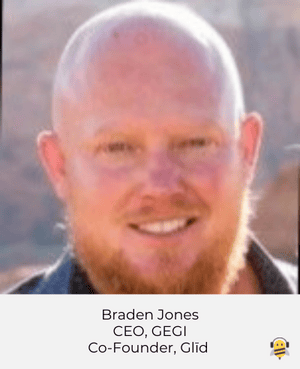 GEGI CEO and Glīd co-founder, Braden Jones, has owned and operated traditional semi-trucking companies for a decade. Because of the nature of the industry, he spent the majority of his career on the road away from his family.
Glīd's technology also lets companies ship by rail for longer stretches. That means truck drivers could have shorter routes, allowing them to go home to their families at night more frequently—a big deal, given all the recent strikes and the truck driver shortage.
And while the truck drivers are home, the Glīders can transport that freight on the rails.
Transforming the road and rail industry
The traditional transportation process involves stacking semi trailers onto a rail car that a train then pulls to its destination. The problem with this is, rail cars can end up sitting in ports or yards for days or weeks at a time, slowing down shipping substantially.
Glīders would get rid of those delays because they can move on and off the rails on their own before they reach these ports. They can also avoid congestion by hopping on and off the rail to avoid major switch stations.
Speed
Along with avoiding major delays and getting rid of bottlenecks, Glīders can also speed up shipping because of their ability to rapidly transition from road to rail and back to road due to their multimodal chassis, suspension, and bi-wheel assembly design.
This configuration allows them to take advantage of some key sustainability traits, such as the utilization of metallic wheels, purposely built for rail transit, which reduces the typical amount of friction than rubber wheels on asphalt or concrete do. This elongates the longevity of the system while offering real time performance gains in distance on a single charge while allowing the system to be transported on the rails at rail speeds effortlessly.
Ease
The Glīders only operate on private property, in order to avoid issues with level 5 government regulations. Semi-trucks will bring the trailers from over the road and then drop off the trailer in a secure, private facility. From there, Glīders pick up a trailer and move onto the rails and travel to its rail destination. Once it reaches its rail destination it derails into another secure and private facility using its patented system to deploy road wheels, where a semi-truck will pick up the trailer and transport it to its final destination.
Safety
One of the biggest points the founders want to show future clients is that the technology is safe and will actually make shipping safer.
The Glīders will meet all of the rail authorities' safety standards. They will also integrate with the existing local system to make sure they automatically signal at crossings so they don't run into other vehicles. Humans will also be checking on the vehicles from a central command center, with the ability to take over remotely if there are issues. One semitrailer is much easier to stop than a train with lots of cars. Glīd technology would also mean fewer semi-trailers on the road, which would lessen traffic and improve road safety.
Profit
Glīd technology can allow rail companies to tap into revenue from freight that hasn't traditionally been transported via rail.
For example, companies like Amazon that send a lot of little packages are typically transported by truck because it would take too long to unload all of those packages from the semi-trailer and then reload them onto a train car. The process can add an extra week or two, Van Noy explained.
Glīders can just attach right onto the semi trailer itself without all of the unloading and reloading. And the ability to hop and off the rail can speed up the process so that it's comparable to truck transportation.
Glīd's technology is advantageous for traditional trucking companies. Instead of sending its fleet and drivers on long stretches that cost a lot in fuel and manpower, Glīd can work with these trucking companies by shipping via the rail throughout these routes, and Glīd would pay these trucking companies almost the same profit as they would have made had they driven the route themselves. This means that these trucking companies can deploy their fleets on additional routes that could allow their drivers to be home more frequently, thus increasing their revenue.
"In essence they could make nearly the same amount of money shipping with us as they would if they sent their own fleets that full distance. It is a win/win for both of us," Jones stated in a recent press release.
Battery range
One of the biggest challenges for autonomous electric solutions for shipping stems from battery technology which affects distances and hauling ability of electric vehicles.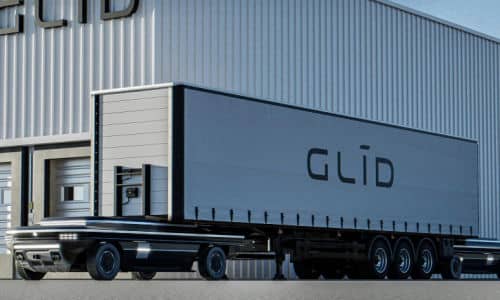 Electric vehicles become less efficient carrying heavy freight; the heavier the load, the faster a battery tends to run out. But an empty rail car weighs almost as much as a fully loaded semitrailer. This means that while over-the-road electric semi-trucks still have to follow DOT's 80,000 lb. weight limit on roads, a fully loaded railcar has the capacity to add an additional 200,000 lbs. Because Glīders do not operate on public roadways, the ability for them to carry more battery weight without compromising cargo weight, creates greater range capacity for travel.
In addition to battery range issues with over-the-road vehicles, batteries tend to drain more when the vehicle frequently starts and stops. By avoiding all of the normal congestion and traffic on roads and freeways, battery ranges are preserved and route length increases.
The metal wheels on metal rails also extend the battery because they create less friction, so the Glīders can travel faster for longer.

Funding
One of the biggest reasons the two companies merged was to allow the public to invest in this new solution.
"Companies doing things like this usually only benefit the accredited investors," explains Van Noy. "Our concept was, what if we could take a new, exciting, and potentially game-changing technology to the masses by allowing shareholders of an already publicly-traded company to benefit from this?"
This way investors can have liquidity from the start and don't have to wait for years for an exit. "This is a very unique module. We're giving the everyday American the opportunity to be a part of changing transportation," Van Noy said.
GEGI/Glīd has also benefited greatly by having Kasey Evans, founding partner of Lane VC act as an advisor to the Company. His connections and resources have been immensely valuable.
Before he became an investor, Evans worked in the trucking and transportation industry. Lane VC frequently invests in technologies in the electric and autonomous vehicle space, including XOS Trucks, Einride, Serial 1, and Vanderhall.

What's next?
The team says the first functional Glīder prototype will be built and demonstrable in the next 4-6 months.
They are planning on showcasing the prototype by using it on a fully loaded semitrailer. The prototype will pick up loads and run the routes so the founders can see how to improve it and iron out any kinks before making the pilot.
From there, they have been in serious talks with one of the biggest railroad companies in the country, along with small companies that own 10–40 miles of rail on their property.
"People are chomping at the bit for something like this," says Damoa.
Although most of these companies are outside of Utah, he is sure that Utah will be a big player in the product's future.
And what does that future look like? The ultimate plan for GEGI is to bring together road and rail to create its own fleet and become its own carrier.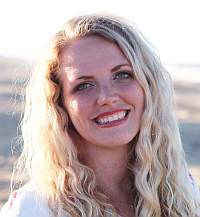 Jenny Rollins is an award-winning writer, editor, and content producer. Jenny is a senior editor for Business.org and manages her own freelance writing and editing business stories.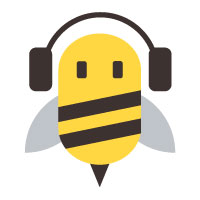 About the Author