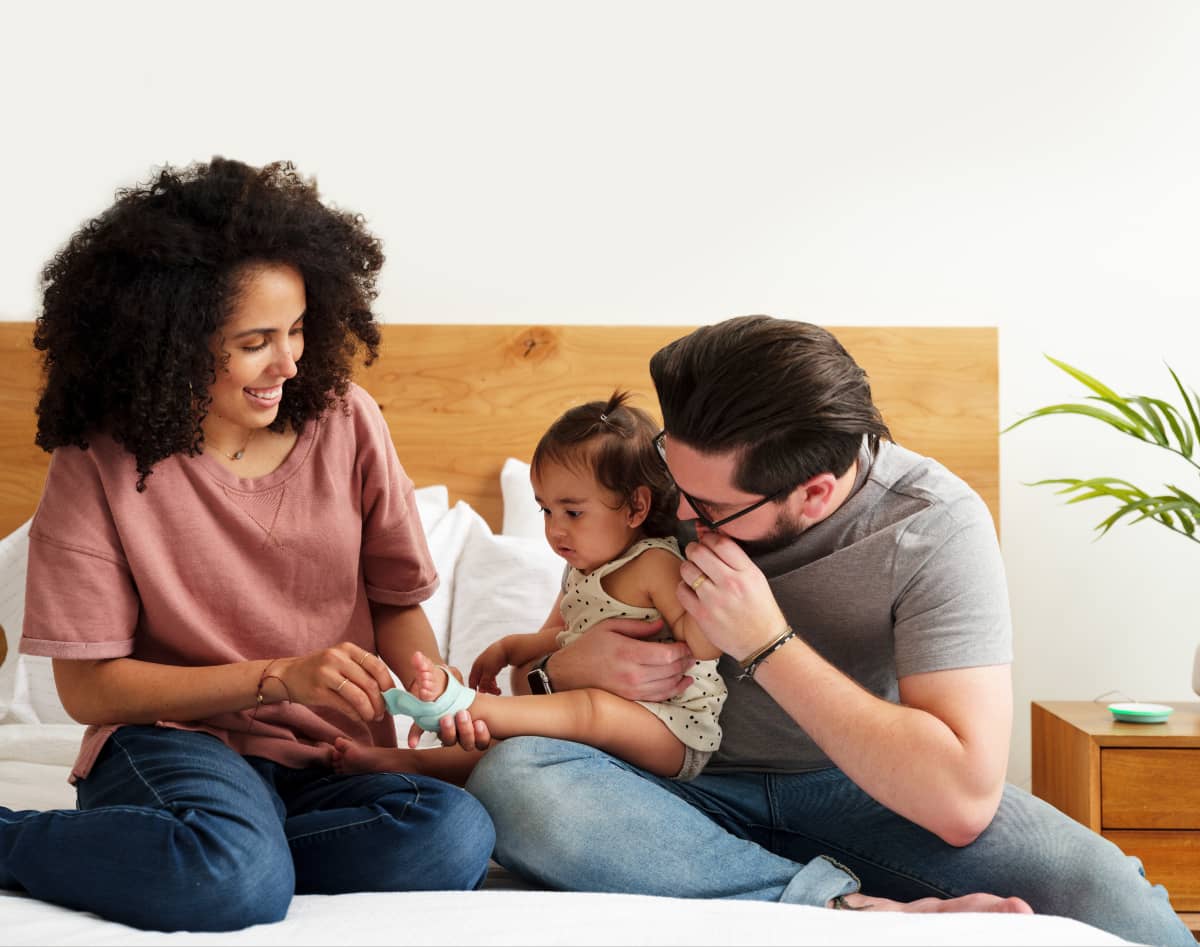 Owlet Goes Public Via SPAC, Valued Over $1 Billion
Owlet Baby Care based in Lehi Utah announced today it will be joining Sandbridge Acquisition Corporation, a Special Purpose Acquisition Corporation (SPAC) in a merger meant to take Owlet public on the New York Stock Exchange. The new ticker symbol is expected to be "OWLT". The projected valuation after the merger is $1.074 billion.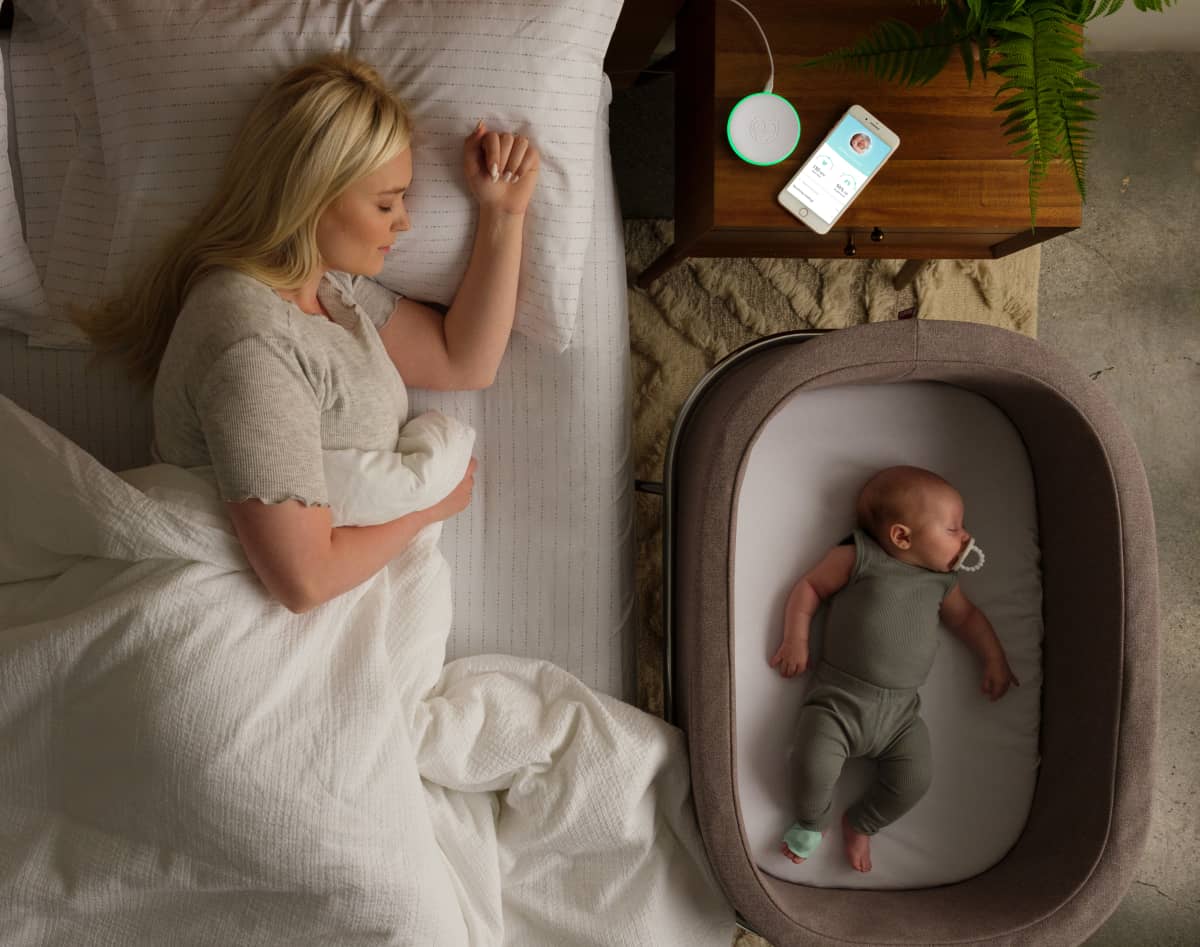 Their first and still flagship product is the Owlet Smart Sock baby monitor, a pulse-oximeter for infants. The smart sock informs parents via a smartphone app if their baby's blood oxygen drops below preset levels. The product is aimed at giving parents peace of mind and collecting data they hope will help with respiratory illness and the infamous "Sudden Infant Death Syndrome", which often happens during sleep or in the baby's sleep area. The Smart Sock capabilities have expanded since launch to include heart rate and sleep monitoring. Owlet has also launched companion products including Owlet Cam, Owlet Pregnancy Band, and a sleep training program called "Dream Lab".
The company has 124 employees and has raised $48 million thus far in six rounds from Seed to Series B, with 27 total institutional investors. Notable Utah investors include Album VC in Lehi and Pelion Venture Partners in Salt Lake City.
"We're thrilled to partner with Sandbridge as we continue our goal of helping parents succeed in the parenting journey," said Kurt Workman, CEO and cofounder of Owlet. He also says the new partners at Sandbridge will help build the brand and "usher Owlet into our next phase of growth as we expand our product suite and work to support family needs through some of the most crucial years of raising children."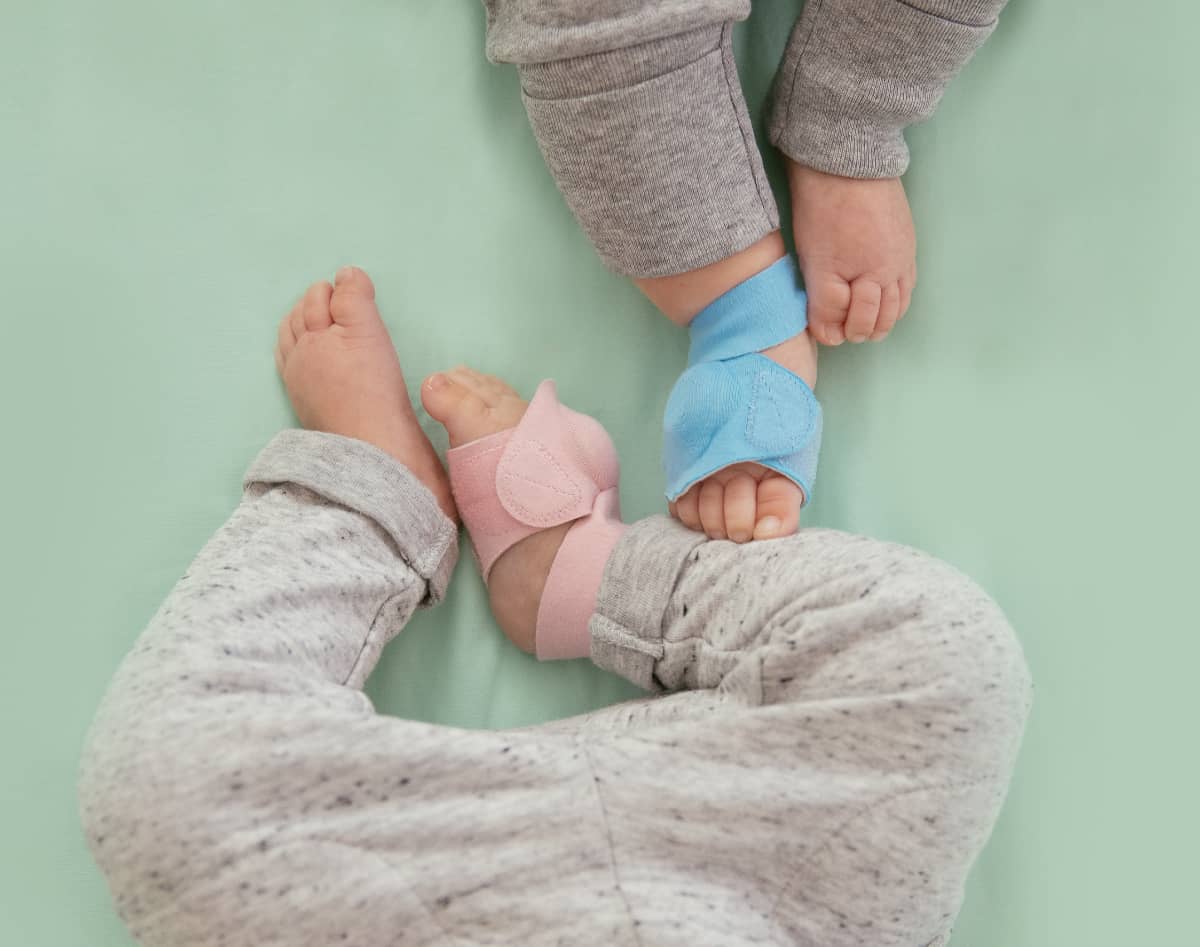 Ken Suslow, Chairman and CEO of Sandbridge Acquisition added, "We are excited to be partnering with the impressive Owlet team on their next-gen, mission driven approach to building out the connected nursery ecosystem of the future – we believe the opportunity here is immense. The Company's modern data driven platform serves as a fundamental tool for enabling parents to monitor their infants' wellbeing, while also presenting a compelling opportunity to leverage this real-time data into smart telehealth solutions as the next wave of this dynamic platform continues to evolve."
During the COVID-19 pandemic in 2020, the company had more than 50% growth after recording $50 million in net revenue for 2019. Workman says the airborne viral pandemic likely boosted awareness of blood-oximeters and the importance of blood oxygen levels, but the majority of growth in the last year came from the release of their latest Smart Sock (version three), and the Dream Lab sleep training program.
The team behind Sandbridge has worked with multiple high-growth consumer companies, including Thom Browne, Rossignol, The RealReal, Farfetch, and Hydrow. The board of Sandbridge includes notable brand builders like Domenico De Sole, former CEO of Gucci Group and cofounder of Tom Ford International, and fashion icon Tommy Hilfiger, who sold his eponymous brand in 2011 for $3 Billion.
The Owlet Story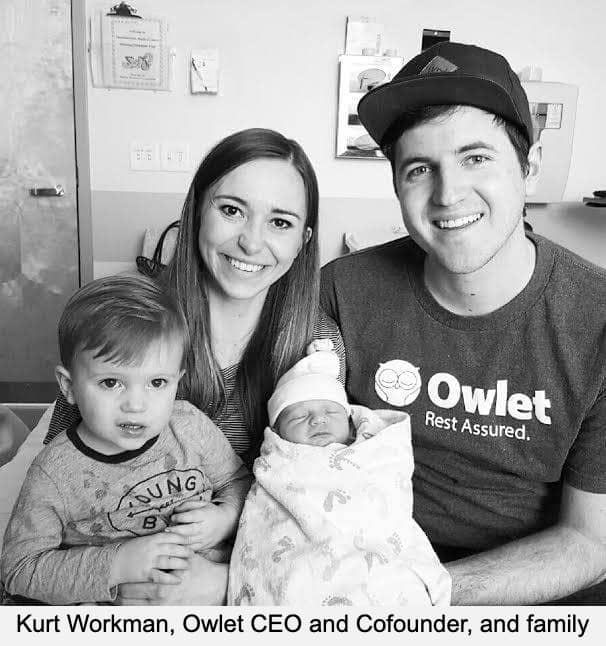 "We started the company because I was concerned," says Workman. "My wife has had three heart surgeries. And as a baby, they didn't catch it. They sent her home from the hospital thinking everything was okay. Then her mom, miraculously, ten days later, had a feeling that something was wrong. She walked into (the baby's) room and found her not breathing. They rushed her to the hospital and did the open-heart surgery that saved her life."
While a mother's intuition helped save his wife's life in infancy, it wasn't something Kurt Workman wanted to leave to intuition alone. He knew his own children ran a risk of inheriting the same condition, and had learned about pulse oximeters, the medical devices for measuring oxygen in the blood. While the device is common enough in hospitals, Workman knew the technology could save more infant lives if it could be shrunk in both size and cost for use in the home.
In 2013, Workman teamed up with fellow BYU students studying business, engineering, and chemistry. The founders — Kurt Workman, Jordan Monroe, Zack Bomsta, Tanor Hodges, and Jake Colvin, sent a survey to friends describing the imagined product. They included a photoshopped picture of a wristwatch on a baby's ankle. The response was overwhelmingly positive.

They'd initially planned on launching the product via Kickstarter, but were disqualified for being a baby product, an unsupported category at the time. They instead launched on the "SelfStarter" crowdfunding platform, raising $140,000 from 840 backers.
The team entered multiple student business competitions at BYU, walking away with roughly $200,000. They entered the TechStars accelerator program in New York as part of the 2013 cohort to expand their network, find mentoring, and seek additional capital.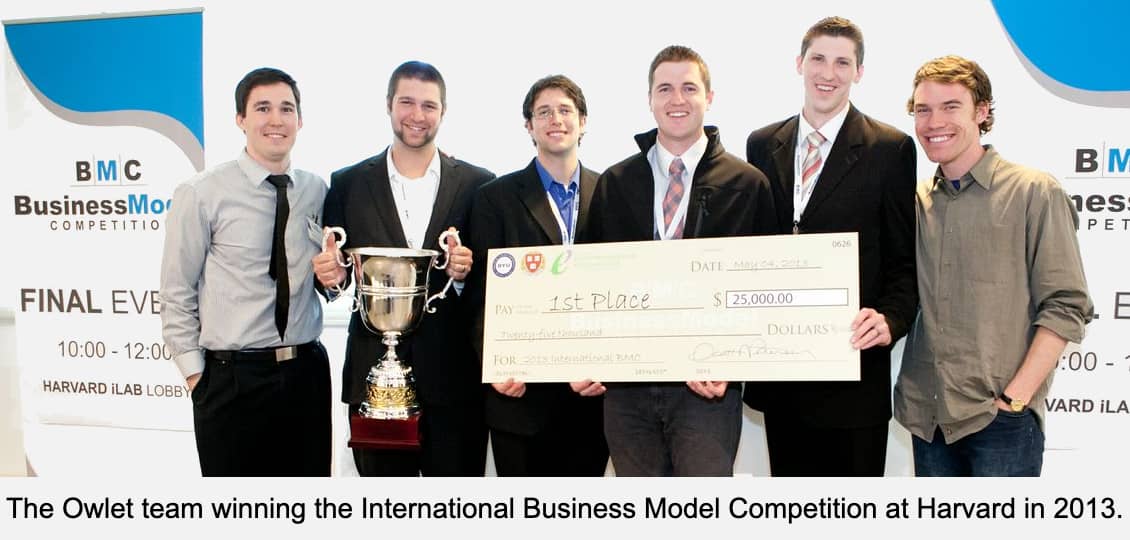 Workman says one early choice informed the company philosophy for years to come.
"While we were at TechStars, we'd manufactured 2,000 units, and they weren't working the way that we wanted them to. We'd spent the crowdfunding dollars on those units. It was a big decision — do we ship the units (that don't work as well as we'd like), or do we throw them away, and offer people a refund through our investors' capital? We decided to throw them away. I think that was one of the best decisions we ever made. We refocused our efforts. We built a product that parents absolutely loved rather than just shipping something early. That allowed us to build what's now a 110-million-dollar run rate business, and now we're going public."
Workman says a relentless focus on product quality has been part of company DNA ever since.

The next year the product was part of the Hardware Battlefield competition from TechCrunch at CES 2014. That same year Owlet was featured in a The Wall Street Journal piece about wearable technology. They soon raised 1.84 million from several parties including Peak Ventures, now Album VC, in Lehi, Utah.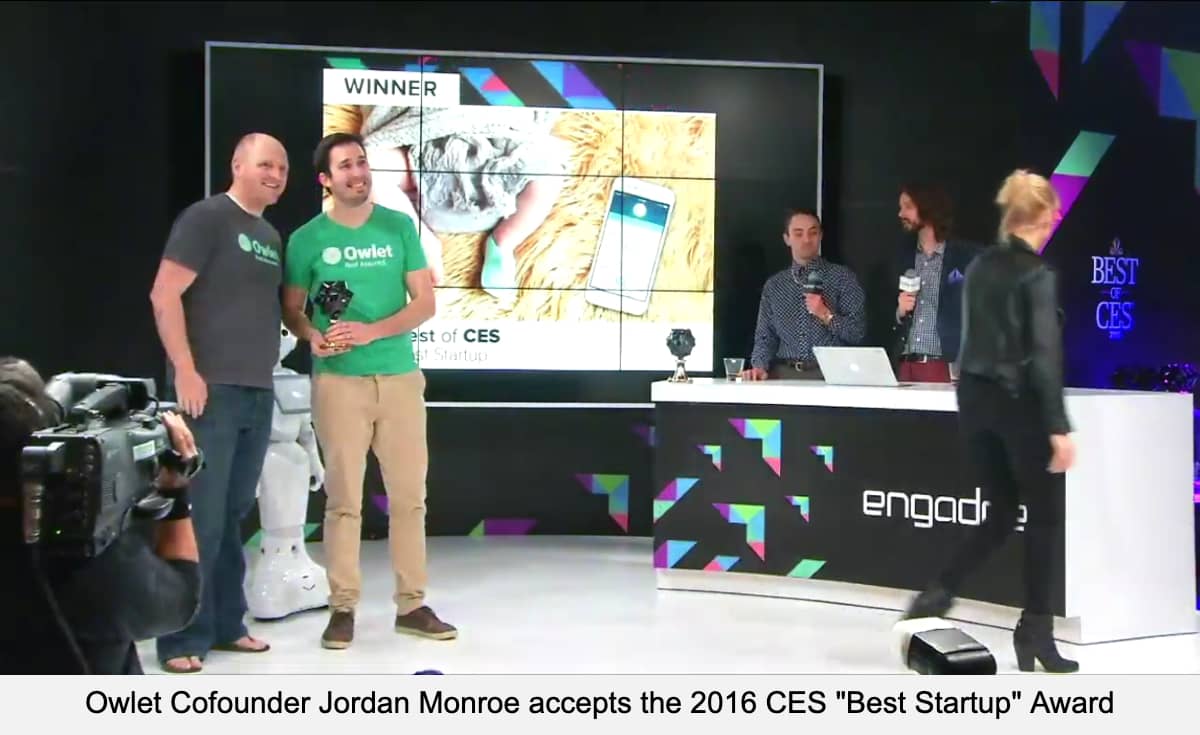 The first units began shipping in 2015.
In November 2016, Owlet raised $15 million through venture funding and $3 million in grants from the National Institutes of Health (NIH), the largest NIH-funded infant health study issued at the time. The $15 million investment brought its total raised to $25 million. In 2016 Owlet was also named "Best Startup of CES".
Their most recent funding was announced May 8, 2018. The $24 Million Series B was led by Trilogy Equity Partners from Bellevue, Washington, with five more institutional investors, including Eclipse Ventures, founded by current Owlet Chairman Lior Susan, and Pelion Venture Partners in Salt Lake City, Utah.
In addition to providing peace of mind to parents, Owlet products are gathering research data that doesn't exist anywhere else.
"Owlet has collected the largest data set of infant health that's ever been collected," says Workman. "We have 12 ongoing research studies. We just published a study with Cleveland Clinic around SVT". Supraventricular Tachycardia, or SVT, is a condition of rapid heartbeat or arrhythmia in infants. Workman says that until this study, very little data was available about SVT. "We have some data from hospitals and clinics, but nothing from the home. What they found is that SVT in babies is 10 times as common as we previously thought. I think [Owlet] will be instrumental in the future and in revolutionising health care for children."
Owlet's latest product, Dream Lab, is an indication of where the company may be headed. Using data collected from connected nursery devices, "we want to expand to fertility coaching, labor coaching, lactation consulting and coaching, and more" says Workman.
"This is a very fragmented category. There is no big technology leader in the space," says Workman. "As far as I know, this is the biggest transaction that's happened in our category. The future for Owlet is extremely promising, with numerous paths to expand product offerings."
Receive TechBuzz as a weekly email. Sign up for our TechBuzz newsletter here!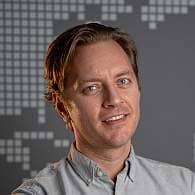 About the Author