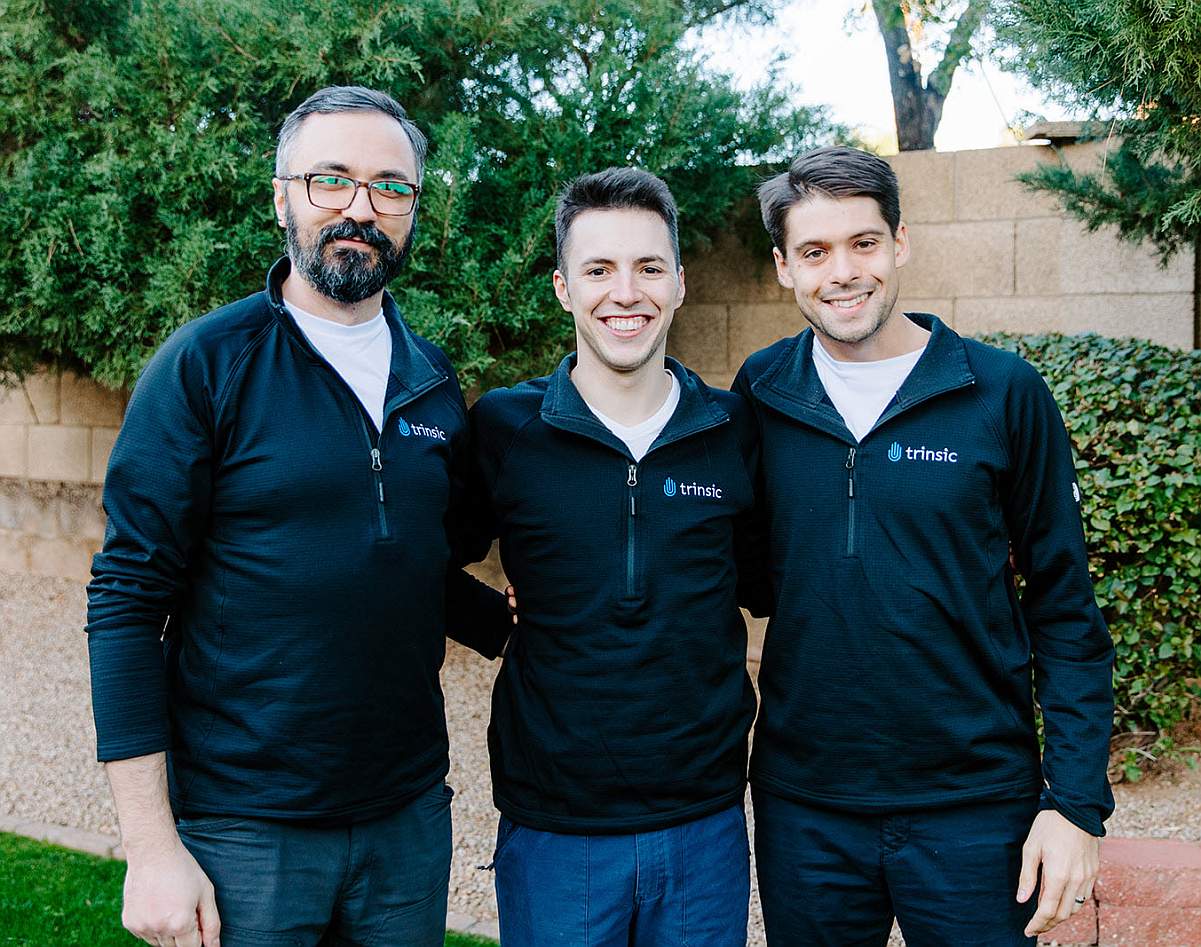 Trinsic Raises $8.5 Million Seed Round
Trinsic, a remote decentralized identity startup, raised an $8.5 million seed round led by Georgian, a VC firm based in Toronto, Canada. Other investors included Osage Venture Partners (Philadelphia), Kickstart Fund (Utah), Forward VC (Netherlands), and Founders' Co-op (Seattle). Angel investors included Utah's Dan Goldsmith (Tendo), Austen Allred (BloomTech), Tyler Hogge (Divvy), Sterling Snow (Divvy), and Verl Allen (Claravine). Other investors in this round include John Gelsey (Auth0), Frederick Kerrest (Okta), Travis Jarae (Liminal), Hessie Jones (ArCompany), and Jonah Goodhard (Moat) also participating. The round was announced on June 29th, 2022.
"As we dug into the decentralized identity market, Trinsic kept coming up as the leaders," says Tyson Baber, lead investor at Georgian, in the Trinsic Press release. "Our R&D team had built a proof-of-concept using Trinsic before we were even introduced. Having first-hand knowledge of the product's quality, coupled with the team's vision for building a network of verified, user-controlled data, made partnering with Trinsic an easy decision."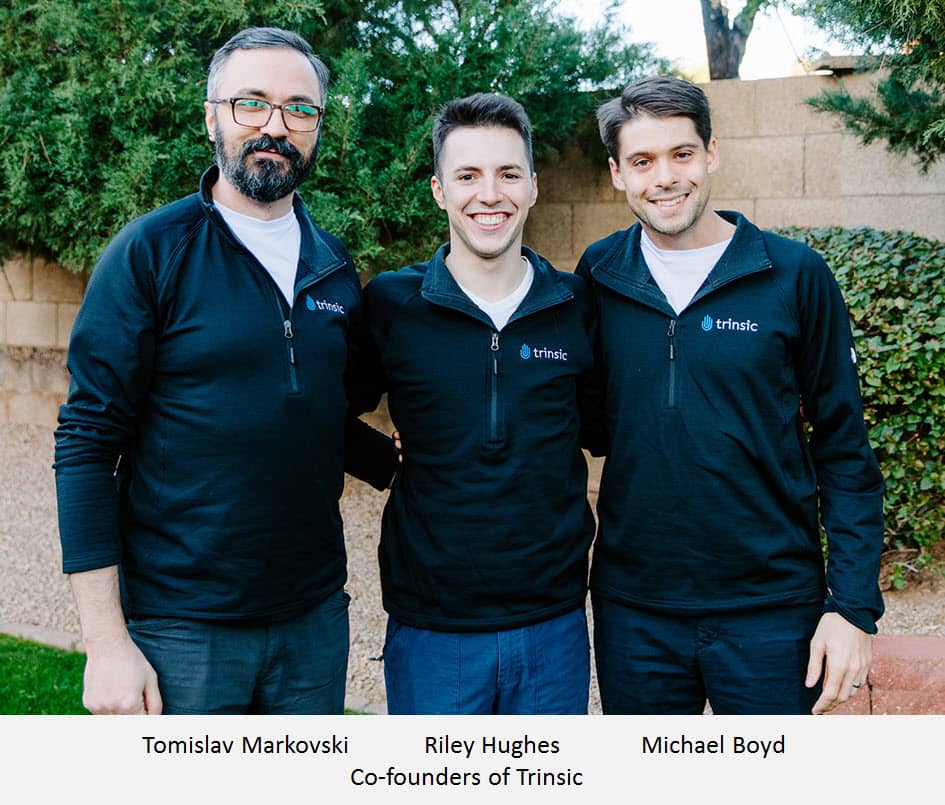 "Georgian has a massive focus on value add in a way that I think is pretty unique," says Riley Hughes, Co-Founder and CEO of Trinsic. "Besides value-add in terms of advice, which they have, Georgian also has 50 engineers on staff internally and their job is solely to do engineering work for their portfolio companies. It's an outsourced R&D department that we can leverage at any time."
Trinsic is an infrastructure for building identity products. Trinsic uses decentralized protocols and interoperable standards to improve identity products as well.
The idea behind Trinsic came to Tomislav Markoviski after he experienced a security breach while trying to rent an apartment in Manhattan.
In the competitive housing market in the heart of New York, Markoviski applied to multiple apartment complexes trying to secure housing for himself and his family. In these applications he had to share his social security number, W-2s, investment records, and even his marriage license. He was finally approved to rent an apartment only to find out a week later that his information had been leaked somewhere in the mix of information being passed around, and his bank account was drained. Markoviski was able to reverse the financial impact, but they never caught the identity thief. This experience led Markoviski to research how to better protect from identity fraud and he landed on decentralized identity.
Decentralized identity allows users to control and own their own digital identity, without depending on a specific service provider. Decentralized identity gives more responsibility to the individual, but also makes data safer, because there is no centralized hub of information a hacker could breach.
In 2019, Markoviski spoke at Interopathon in Utah, an event put on by the Sovrin Foundation to discuss leading ideas in interoperability. The Sovrin Foundation is a Utah-based nonprofit industry consortium of companies interested in decentralized identity. Each company in the consortium is a node in its blockchain network. Riley Hughes and Michael Boyd worked for Sovrin Foundation at the time and eventually connected and Co-Founded Trinsic with Markoviski.
Trinsic is a developer tool used by clients to integrate into their products. The company can be compared to Stripe or Twilio, but for decentralized identity and following the ethos of Web3 and the cryptocurrency world.
"In crypto, you can take your seed phrase and your keys from one wallet and go to another wallet and your crypto loads up perfectly and is all there, it's a similar concept with decentralized identity," explains Hughes. "The user is always the one in control of their data. They own their own keys and identifiers."
The Trinsic founders also understand that there are many workaround protocols and protections put in place against identity theft, such as identity theft insurance, but Trinsic tries to eliminate the problem before it happens.
For example, car insurance is put in place to protect people from the costs of a car wreck, but if car wrecks were eliminated through technology, it would be better and safer for everyone. Trinsic is creating that technology to eliminate the threat of identity theft before it takes place.
An understandable use case for Trinsic came about last year with Covid vaccination cards. Trinsic developed a product that creates a vaccination passport, allowing users to hold their own vaccination card digitally and share it with third parties as needed.
Other Trinsic clients include companies from all over the world in industries such as car manufacturing, banking, governments, supply chain and logistics, and healthcare. Yoma, a startup in South Africa, integrated Trinsic's products to help students create verifiable CVs, detailing and proving that students actually took the courses on their CVs. The South African startup has already helped 30,000 students verify their class courses and use that information to apply for jobs.
Trinsic currently has 12 employees and is completely remote, with a majority of employees based in Utah. The three co-founders are spread between New York, Idaho, and California.
With this $8.5 million investment, Trinsic looks to hire between eight and ten new employees, mostly engineers, by the end of the year. They also hope to hire their first sales rep soon, as they have relied on word of mouth so far.
Like most tech companies, Trinsic continues to look into the future and plans to keep innovating in the decentralized identity space. Hughes explains that in the future we won't need a driver's license or any form of ID to get into a club or bar, instead we will share a zero knowledge proof demonstrating that a person's age is over 18. A zero knowledge proof will have only the information needed, unlike a driver's license, which has way more information than any bouncer needs to know.
"This is how we're going to share data in the future," says Hughes. "It's going to be powered by a lot of the products we're building and overall, data will have a lot more privacy."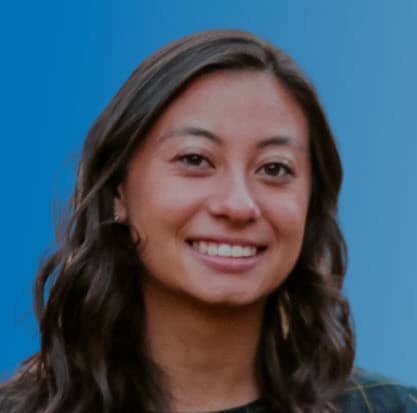 About the Author